Reebok collaborates with Huntsman and Sons, Savile Row's finest tailor, 
to cut a prototype suit made entirely from the latest innovation in footwear material, Reebok Flexweave. 
Reebok and Huntsman & Sons announced this week that they have partnered to bring together the worlds of sport, fitness, fashion and innovation to collaborate on a one-of-a-kind project, Reebok x Huntsman, creating a prototype menswear suit using Reebok's exclusive Flexweave material.
Reebok x Huntsman will work together over the coming months to develop the made-to-measure men's suit for Reebok ambassador and NFL wide receiver for the New England Patriots Brandin Cooks.
Reebok's exclusive Flexweave material, a textile that can be produced using an unlimited array of fabrics, will be used by Huntsman & Sons to produce a prototype suit to show the versatile potential of Reebok Flexweave, testing the material's innovative figure-8 weave structure that can interlock different individual fibers.
Led by Huntsman Head Cutter and Creative Director Campbell Carey, Huntsman will take the first generation of Flexweave material designed for footwear and curate the textile into a premium suit.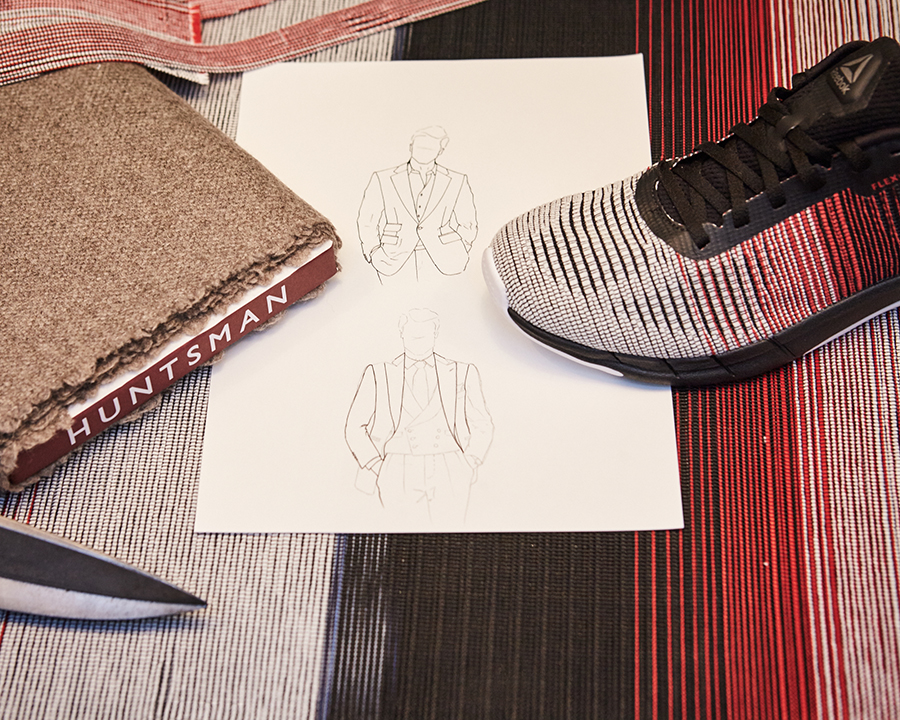 Huntsman & Sons, founded in 1849 and one of the finest and most longstanding houses on Savile Row, will create the suit to the measurements of NFL Wide Receiver for the New England Patriots and Reebok Running ambassador, Brandin Cooks. Cooks has worked closely with Reebok on the development of upcoming Flexweave footwear offerings and will now take center stage in Reebok x Huntsman, testing the new textile's potential in a creative and unexpected way.
"Whether I'm walking into the stadium or relaxing on my off days, I love the confidence that good style brings. Reebok Flexweave provides a performance fit and look unlike any other so I'm excited to see how the material translates into a custom suit. There are endless opportunities for what we can do with it." – Brandon Cooks
Reebok x Huntsman will conclude in February 2018 with Huntsman delivering the suit to Cooks following months of experimentation and testing in their Saville Row workshop. For now, Huntsman has released some prospective sketches (pictured above) on the style and cut of the prototype garment.
"Flexweave is one of the most advanced steps in footwear upper construction. We are committed to bringing innovative technology to the running category to re-assert ourselves as a leader. We are thrilled to be partnering with Huntsman and push the limits of fit and function to develop a men's suit using this innovative weave. Our goal is this level of tailoring in all our footwear." – James Woolard, Brand Director, Reebok Running.
More information on the Reebok Innovation Collection can be found here. Photos and video courtesy Reebok