Bell Sports has voluntarily recalled about 31,100 full-face bicycle helmets in the United States and 2,500 in Canada due to a faulty buckle, according to the U.S. Consumer Product Safety Commission and Health Canada.
The plastic buckle that connects the chin straps can fail, causing the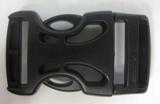 helmet to come off the wearer's head. This poses a head injury hazard to riders in the event of a fall.The firm has received one report of a buckle failing during an accident, resulting in an injury that required stitches below the wearer's eye.

The helmets were made in Taiwan and sold at Walmart stores nationwide and Amazon.com between August 2009 and March 2011 for between $50 and $60.
The recall involves Bell Exodus full-face helmets with a plastic buckle on the chinstrap and model and part numbers listed below. The helmets have an angled visor and were sold in youth size. The model and part number can be found on a removable sticker located on the side of the helmet.
Orange, grey and black versions of the helmet carried the part number 1003825/035011898025 while blue, grey/gold and white/black versions carried the part number 1006714/035011917719.