Bon Hiver Inc., of Chester, N.Y. is voluntarily recalling about 200 snowboard bindings because their base plate can fracture from impact during use, posing a fall hazard to snowboarders.
Bon Hiver has received two reports of the base plates fracturing during use. There have been no reports of injuries or property damage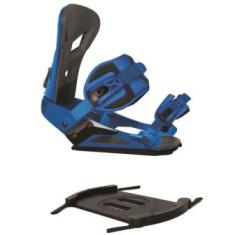 The recalled products are Bon Hiver Freebase snowboard bindings in the following models: 11 Series – Assault or Infrared (pictured at left), 13 Series – Arsenal or Hellfire and 18 Series – Stealth or Storm. The bindings are sold in pairs. Each binding is made up of two pieces: a boot base and a base plate. The boot base, which attaches to the snowboarder's boot, has a high back, ankle strap, toe strap and footplate. It is made of plastic and aluminum, has six magnets on the underside of the footplate and is made in the following colors: black, blue, red and white. The Bon Hiver logo appears on the back of the boot base near the top and across the ankle strap. The words "Bon Hiver Snowboarding" appear on the heel. The series number is located next to the logo on the back of the boot base and on the side of one of the footplates. The base plate is flat and made of black plastic. It has four locking mechanisms to attach it to the board.
The bindings were made in China and sold by BonHiver.com and ski and snowboard retailers from November 2011 to December 2011 for between $260 and $350.
Consumers should immediately stop using the recalled bindings and return them to Bon Hiver for a free repair and a 20 percent refund of the purchase price.