Baby Jogger LLC of Ricmond, VA. is recalling about 1,545 of its Baby Jogger Jump Seats in the United States and 450 in Canada after reports they fail to properly lock in place, according to the U.S. Consumer Product Safety Commission and Health Canada.

Baby Jogger has received four reports of children falling from the seat, including reports of scrapes, bruises, cuts and one broken nose. If the Jump Seat does not properly lock into place, the Jump Seat could disengage from the stroller allowing the child to fall out.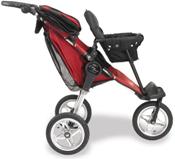 The Baby Jogger Jump Seat is a fabric seat accessory with the name "Baby Jogger" on the front that is attached to the mounting bracket on the frame of a Baby Jogger City Elite, Baby Jogger City Classic or Baby Jogger Summit stroller and allows a toddler and baby to ride together in the same stroller at the same time. The item number J7J50 is printed on the product packaging and the product was sold beginning Jan. 2008 at junvenile products, mass merchandisers and department stores and on the Web for about $100.