Lululemon Athletic Inc. is recalling 133,000 women's tops because when the elastic draw cord with a hard tip in the hood or around the neck area is pulled or caught on something and released, it can snap back and impact the face area and result in injury.
Lululemon said it has received seven reports of instances in which the draw cords resulted in injuries to a consumer's face or eye. The company has instructed consumers to stop wearing the tops with the elastic draw cords until they either remove the draw cord or contact Lululemon to request a new, non-elastic draw cord with written instructions on how to replace the draw cord.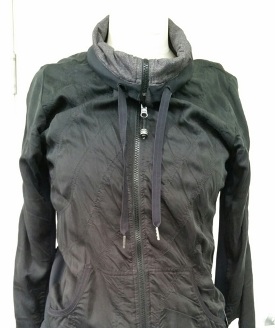 Recalled tops come in a variety of colors and styles, including Carry and Go Hoodie; Cool Down Jacket (pictured to the left); Course-ette Jacket; Cozy Up Jacket; Dance Studio Jacket; Dance Sweat Shirt; Don't Hurry Be Happy Pullover; Gratitude Wrap; Necessity Jacket; Proactive Jacket; Refresh Snap Up; Run Sun Blocker Pullover; Run Track N Field Jacket; Run With It Jacket; Sanctuary Jacket; Savasana Tunic; Sing, Floss, Travel Jacket; Stow 'N Go Jacket; Stride Jacket; Summertime Tunic; Varsity Hoodie; Victory Jacket and Wear With All Jacket. Each top displays an embroidered or printed Lululemon logo; the location of the logo varies with the style of the garment.
The affected garments were manufactured in Bangladesh, China, Indonesia and Peru.