Rawlings Sporting Goods Company Inc. announced the finalists for the 2017 Rawlings Gold Glove Award, honoring the best individual fielding performances at each position in the American League and National League.
The winners will be unveiled during a live, one-hour "Baseball Tonight – The 2017 Rawlings Gold Glove Award Announcement Show" on ESPN Tuesday, November 7, 2017, at 9 p.m. ET/8 p.m. CT. Adnan Virk will be hosting the show along with analysts Mark Teixeira and David Ross.
While the award originated in 1957, Rawlings first began highlighting the top-three defenders at each position in 2011. Since then, only three players have been named a Rawlings Gold Glove Award finalist each year: Kansas City left fielder Alex Gordon, St. Louis catcher Yadier Molina and Boston second baseman Dustin Pedroia.
A number of players are vying for the designation as the best defender at their respective positions. Five teams are tied with four finalists each. The longest, active consecutive streak of Rawlings Gold Glove Award wins belongs to the Colorado Rockies' Nolan Arenado with four.
Each manager and up to six coaches on his staff vote from a pool of qualified players in their League, and cannot vote for players from their own team. In 2013, Rawlings added a sabermetric component to the Rawlings Gold Glove Award selection process, as part of its collaboration with the Society for American Baseball Research (SABR). The SABR Defensive Index comprises approximately 25 percent of the overall selection total, with the managers and coaches' vote continuing to carry the majority.
The 2017 Rawlings Gold Glove Award finalists are: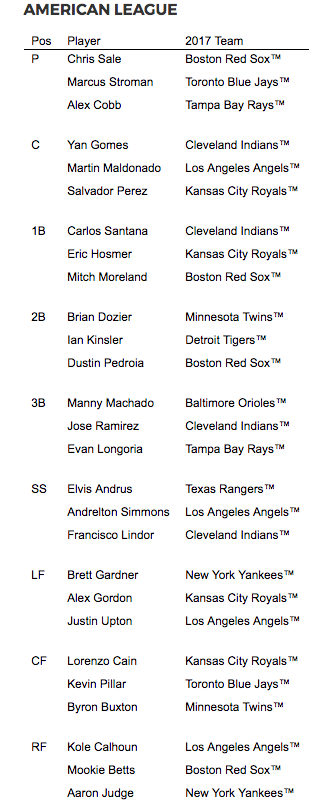 Following the ESPN announcement telecast on November 7, voting for the Rawlings Platinum Glove Award presented by SABR will begin online at rawlings.com. The voting will open at 9 p.m. CT and will remain open for 48 hours. The public can vote to weigh in as to who is "The Finest in the Field" in both the American League and National League. Fans can only select one player among the 2017 Rawlings Gold Glove Award winners from each League.
A combination of the national fan vote and the SABR Defensive Index will determine who takes home the honor of each League's top defensive player.
The Rawlings Platinum Glove Award winners will be unveiled during the 2017 Rawlings Gold Glove Award Ceremony on Friday, November 10, 2017.
Photo courtesy Rawlings