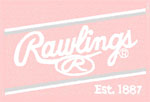 Rawlings has named David Hill to the newly-created position of Senior Director, Fall Products. Hill will assume responsibility for driving the football and basketball businesses for the company, while advancing the product lines in the fall sports category.
The fall sports category is a tremendous area for growth at Rawlings, said Rawlings Senior VP, Product, Art Chou. Were excited to have someone as knowledgeable and experienced as David on our team and are looking forward to his future contributions.
Hill comes to Rawlings after spending the past several years as owner of a team sports consulting firm, where he assisted various sporting goods companies in growing their businesses. His early career included several years as a sporting goods sales rep for HB Hughes Company in Dallas, TX. Hill then spent 10 years with Wilson Sporting Goods, holding territory and national account sales positions, before being promoted to management positions in Team Apparel and Apparel Licensing. After Wilson, he joined Nike and held positions in Team Apparel, Business Development, Planning and Inventory Management, while also working in the Nike Sports Marketing department.