With the Rossignol debacle all but forgotten and an impressive fiscal 2008 fading quickly in the rearview mirror, Quiksilver, Inc. has turned its effort to improving liquidity and improving capital structure in what has been a tumultuous market environment to kick off 2009.


Quiksilver Inc. saw revenues for the lifestyle brand decline 10.7% for the first quarter, significantly impacted by a double-digit decrease in sales for the Americas region, which management said was impacted by declining sales in both wholesale and retail sales, both of which suffered from a weaker holiday season.
A stronger U.S. dollar also cut into sales for the period. Revenues were down roughly 3.7% in constant currency terms. Excluding a $6.1 million severance charge in the Americas and a $50.8 million non-cash to write off deferred tax assets in the U.S., the company's loss from continuing operations was $9.0 million, or 7 cents per diluted share, compared with a income from continuing operations of $7.6 million, or 6 cents per share, for the year-ago period.

Performance was relatively consistent between wholesale and retail sales, with retail performing slightly better than wholesale with a modest comp decline that was more than offset by sales from new stores. The negative retail comp trend has been slowed by the company's decision to halt new store openings. No new stores opened in the Americas in Q1, and only three have opened since the first quarter of 2008.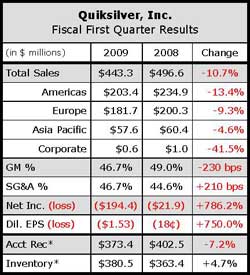 A weak retail market that carried over from the back-half of 2008 prompted the company to implement several cost cutting measures to combat declining store traffic and compressing margins. In response to softening sales in the Americas region, the company issued a management realignment, naming Quiksilver veteran Craig Stevenson as the new president of Quiksilver Americas. Specific to its Americas region, the company has also compressed pricing and implemented a 150-employee workforce reduction in January.

The Americas region, largely impacted by weakness in large markets like California, Florida and Hawaii, suffered an operating loss of $16.3 million in the fiscal first quarter as compared to an operating profit of $7.1 million on the year-ago period, due in large part to a 13.4% decline in sales for the period and a 610 basis point decline in gross margins to 37.2% of sales. The company announced in January that it plans to reduce spending in the Americas by $40 million.

Management remained optimistic about the European market considering the market strength, as gross margins improved by 70 basis points to 55.5% of sales and operating income that improved 1.8% to $22.0 million. European revenues improved about 0.8% in constant currency terms. Management noted that spring/summer wholesale margins for the Quiksilver and Roxy brands benefited from sourcing improvements, stronger sales during the January clearance periods and a slight mix shift towards retail.

Operating income for the Asia-Pacific region was down about 0.9% to $3.8 million. Revenues were up nearly 20% on a constant currency basis. Japan continues to be the fastest growing segment in the region, while a sluggish economy in Australia hurt sales. A much healthier wholesale business for the region boosted overall margins for the first quarter.

Quiksilver's Roxy brand continued to struggle in Q1 as the market experiences particular weakness in women's and junior's categories, but management said the company plans to release new categories to the brand to stimulate sales in 2009.

Likewise, Quiksilver's women's line, which debuted last year, has shown promise, said management. Finally, the company said its DC line continues to be one of its strongest retail brands as it continues to evolve into a full-scale lifestyle brand.

Management said the increase in inventory for Q1 reflects the early receipt of some spring and summer goods along with a weaker-than-expected consumer demand in the quarter, and added that they had seen an expected increase in order cancellations as retailers struggled to gauge the market.

Management said its European banks had extended the maturity of a €55 million line of credit from March 14 until June 30, 2009, which analysts suggested was implicated to account for a potential sale of certain assets. They said the move would provide "ample time for (the company) to make progress on the strategic initiatives we've discussed."

Several questions were asked by analysts regarding the rumors swirling about the sale of the DC brand, but management remained vague and abbreviated when addressing them.

Regarding outlook, management expects revenues to fall in the mid-teens for Q2 with a 150 point contraction of gross margins. For the year, a low-double-digit revenue decline is expected as declines in the value of the euro and Australian dollar continue to impact reported revenues.