Driven by a hike in margins in the Americas, Quiksilver Inc. reported significantly improved earnings before special items in its fourth quarter ended Oct. 31 while continuing to slash the heavy debt load it took with its failed Rossignol acquisition.

Most encouragingly, the surf apparel giant unveiled a new five-year plan that includes increasing its marketing spend in 2011 in order to chase top-line growth again.

"There are still areas of weakness in some of our markets around the world but we believe we are now well-positioned and more sharply focused," offered company President and CEO Bob McKnight on a conference call with analysts. "We have also learned over time how to weather inconsistent markets. It is time we begin to transition our business from defense, where we restructured operations and refinanced our balance sheet, now to offense."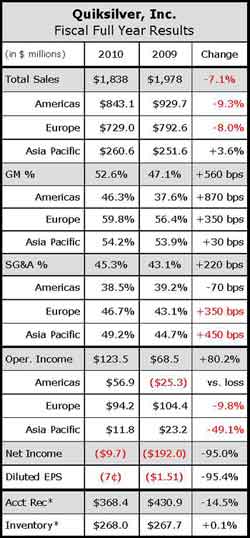 In late November, the company indicated that its October quarter results would exceed projections given at the time of its third quarter release, primarily due to the strengthening euro currency.

Adjusted profit reached $21.8 million in the quarter, well above $3.2 million earned a year ago. Including non-recurring costs related to refinancings, asset impairments, and restructuring activities, the net loss from continuing operations was $23.1 million, or 15 cents per share, in the latest period compared to a net loss of $15.7 million or 12 cents, a year ago. Sales slid 8.1% to $495.1 million but were ahead of its downbeat September prediction of a mid-teen percentage decline.

The Americas region notched an operating profit of $12.7 million against a loss of $9.3 million a year ago. Sales slid 7.4% to $221.8 million. The reduction in wholesale revenues was partially due to intentional plans to reduce sales at lower margin distribution. Its owned retail sales grew with comps at its owned stores again positive.

In Europe, operating income climbed 23.2% to $20.9 million. Sales slumped 9.8% to $190.7 million but would have been only down 1% in constant currencies and was in line with expectations. Growth in DC offset reductions in Roxy and to a smaller degree, Quiksilver. France and Spain were particularly strong.

In the Asia/Pacific region, operating earnings fell 40.7% to $8.6 million while sales declined 7.2% to $80.4 million and fell 14% in constant currencies. Management cited "weakness throughout the region" for many firms.

Gross margins improved 590 basis points, to 53.5% for the quarter, reflecting significantly lower levels of discounting and clearance sales due to inventory management. Sourcing initiatives also boosted margins. The Americas saw margins improve 960 basis points, to 48.1% while Europe's expanded 440 basis points to a.2%.

With debt reduced by 30% to $729 million, Quiksilver ended the year with about $197 million of availability under its credit lines, and approximately $120 million in cash.

Looking ahead, first quarter revenues are expected to be down approximately 5%. Pro-forma adjusted earnings are expected to be down as much as $10 million due primarily to increased brand-development spending, including the new Quiksilver Girls collection and higher overall marketing spend, as well as the effects of selling a few minor brands last year and the effects of foreign currency translation. For its fiscal 2011 year, slight growth in sales is seen with pro-forma adjusted EBITDA roughly in line with that of fiscal 2010.

The five-year plan calls for targeting longer-term growth in the mid- to high-single-digit range on a percentage basis with earnings growing faster than sales. McKnight said "interest in action sports is growing," and the company remains committed to providing supporting events and athletes across board sports.

DC Shoes, which posted revenues of $500 million in fiscal 2010, can "reasonably double" sales over the next five years, particularly as it reaches under-penetrated countries in Europe and Asia, according to McKnight.
DC will also continue to expand beyond skateboarding, into surf, snow, BMX, Rally, and Moto to position itself more firmly as a lifestyle brand. Said McKnight, "This terrific brand represents a solid growth opportunity, not only regionally, but its overall apparel business in the juniors market, in the area of newly evolving action sports, and its snow and winter outerwear business," said McKnight.

Roxy, reaching over $500 million in annual revenues this last year, has been hurt by the impact of fast fashion and price-point driven goods in the juniors market for all surf, skate and snow companies. Declines are moderating and expected to bottom out in 2011.

Quiksilver, with $770 million in revenues in fiscal 2010, is expected to particularly benefit from a good retailer response to its first juniors line, set to launch in February. But all three brands are expected to benefit from expansion in mountain resorts and colder weather markets within the Americas and Asia-Pacific to replicate the success of its European winter outerwear business.
The company also plans to target several underpenetrated regions it has "simply under invested over the past few years," including Brazil, Russia, China, South Korea as well as non-coastal markets of the U.S. E-commerce is expected to eventually reach 10% of revenue and Quiksilver will "selectively expand" its store base. Continued investments are also planned for newer brands, such as Lib Tech and Gnu. A collaboration with surfer Kelly Slater is also being planned.