Puma AG finished the first quarter with slight declines in worldwide brand sales and similar declines in earnings, exclusing a hefty restructuring charge. The decline in sales came from the EMEA and Asia/Pacific regions, while the Americas reported healthy increases in top line results.


Even though the first quarter saw only mild declines in sales and adjusted net income, Puma is expecting continued softness in the global market. Management stated that after 14 years of growth, they are expecting 2009 to be a year of consolidation, with a "clear focus on adjusting the cost basis." The company is spending €110 million to restructure its retail portfolio, its global organizational structure, and its operating processes. These three changes should result in annual savings of over €150 million.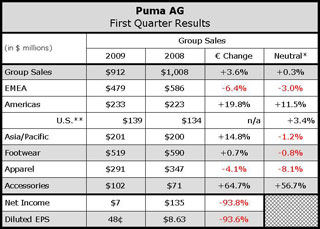 Puma management is not planning on seeing any turn-around in the global retail environment until 2010. In spite of the current environment, the company is still planning to build a new €20 million global headquarters in Herzogenaurach, Germany, called "Puma Plaza." The facility, which will host Puma's corporate offices, brand center, a new concept store, and a factory outlet store, should be ready for occupancy by the end of 2009.

Worldwide branded sales, which include Puma's consolidated sales and licensed sales, decreased 3.1% in currency-neutral terms. In euro terms, sales slipped 0.5% to €737.7 million ($965 mm). On a currency-neutral basis, Puma global branded footwear sales (including licensed sales) were down by 0.8% to €407.1 million ($532 mm) and Apparel was down 8.1% to €237.4 million ($311 mm). Accessories increased on a currency neutral basis by 0.6% to €93.2 million ($122 mm).

By region, sales in the EMEA (Europe, Middle East and Africa) decreased 6.4% (-3.0% c-n) to €366.1 million ($479 mm). The region represented 52.5% of consolidated sales versus 58.1% of sales in Q1 last year. Gross margins increased 40 basis points to 55.1% of sales in the first quarter.

Sales in the Americas, which includes the U.S., were up 19.8% (+11.5% c-n) to €178.1 million ($233 mm). The region accounted for 25.5% of consolidated sales versus 22.1% in Q1 last year. Gross margins fell 370 basis points to 46.7% compared to 50.4% last year. In the U.S. market, sales increased by 3.4% to $138.7 million in the first quarter.
Asia/Pacific sales decreased 1.2% in currency-neutral terms but increased 14.8% in euro terms to €153.3 million ($200.5 mm). Asia Pacific accounted for 22.0% of sales versus 19.8% in Q1 last year. Gross margins dipped 200 basis points to 51.0% of sales.

By category, (excluding licensed sales,) accessories showed the strongest growth, followed by apparel. Global footwear sales were down compared to the same period last year. Currency-adjusted, sales in Footwear slipped 0.8%, but rose 0.7% in euro terms to €397.1 million ($519.4 mm). Apparel sales decreased 4.1% (-8.1% c-n) to €222.4 million ($290.9 mm) due to high comparables which resulted from replica sales relating to the Euro Championships last year. Accessories were up a strong 64.7% (+56.7% c-n) to €77.9 million ($101.9 mm), which stems mainly from the consolidation of a licensee into Puma's results.
During the first quarter, sales came in better than the order books at the end of the fourth quarter had indicated, which management said demonstrated a clear shift in future orders to at-once business.
Management stated that quarterly orders are losing significance as an indicator of future sales and as a result, Puma will not release future orders going forward.

Overall gross margins slipped 130 basis points to 52.1% of sales compared to 53.4% in Q1 last year. The decline was said to be primarily due to shifts in regional sales, with higher margin EMEA sales declining and lower margin sales from the Americas region increasing. SG&A increased due to higher expenses related to owned retail stores.
In euros, inventories grew sharply, up 22.6% to €446.7 million ($590 mm) and accounts receivable increased 5.3% reaching €533.1 million ($704 mm). However, adjusted for recent acquisitions and currency fluctuations, inventories were up 16.6% and accounts receivables increased 1.3%.

Excluding the €110 million restructuring charge, Puma's first quarter net earnings would have been €80.8 million ($106 mm), a decline of 10.3%. Diluted EPS would have been €5.36 ($7.01). As reported, net income dropped 93.8% to €5.6 million ($7.3 mm) versus €90.1 million ($134.9 mm) in the year-ago period.