Lake Oswego, OR, September 16, 2019—For 40 years, Yakima has built its reputation as a leader in vehicle rack design and performance by providing innovative and reliable cargo solutions for outdoor enthusiasts of all kinds. For Fall 2019, the brand officially enters the recreational fishing market with three all-new rooftop fishing rod carriers.
The new line of rod carriers, available now at Yakima.com and associated dealers, consists of three products. The DoubleHaul, winner of GearJunkie.com's Best In Show award at this year's Outdoor Retailer Summer Market, is a premium, precision-designed rod carrier made specifically for fly fishing rods. The TopWater is a purpose-built storage box for conventional rods and reels with room for tackle and other gear. The ReelDeal is a simple and economical solution for transporting up to eight fully rigged rods on any style of roof rack.
"With 49 million anglers in the United States, many of whom are already Yakima consumers, it only made sense to bring our expertise in cargo management to the world of fishing," said Garrett Barnum, Category Director. "However, this was never going to be an 'us too' play. Instead, we've gone all-in right out of the gate, with three smartly designed and well-built products for a wide range of anglers."
PRODUCT OVERVIEWS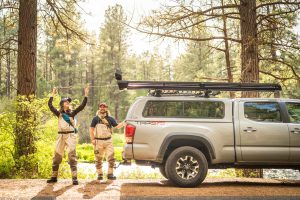 DoubleHaul
Designed with avid flyfishers in mind, the DoubleHaul offers superior protection for up to four fly rods or two fly rods and two spey rods. The DoubleHaul accommodates rods up to 10 feet in length and most reels up to 12 weight. The best part? Rods can be stored fully strung up for fast and easy access. The four aluminum rod tubes that comprise the carrier each contain a plastic sleeve to protect a fly rod and prevent wear and abrasion on the blank and guides. Reels are positioned horizontally in the reel box to mitigate vibration during transit and felt padding prevents marring. The reel box features a Yakima SKS lock for worry-free security and the entire unit locks onto a vehicle's crossbars with a second SKS lock. The DoubleHaul easily mounts to any vehicle crossbars with its tool-free, low-profile universal mounting hardware, and the carrier can be configured to half its length for smaller vehicles. The DoubleHaul weighs 47 pounds and measures 131x14x9 inches in its full-length configuration. MSRP: $699
TopWater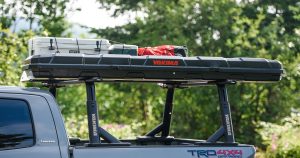 The super-versatile TopWater is easily mounted to a roof rack or trailer for on-the-go access to as many as eight fully rigged baitcasting and spinning rods up to 8 feet in length (or 20 bare rods). The TopWater keeps rods and reels secure and organized during transit thanks to protective foam pads and rubber straps that ensure everything stays in place. Additional space under the rods accommodates low-profile tackle boxes and other gear, while small drain holes prevent water from pooling in the bottom of the box. Built-in rod shields protect rod tips from damage. The durable shell is made from the same American-made ABS material with Carbonite finish used in Yakima's SkyBox products. With a Yakima SKS lock included, the TopWater is equipped to keep cargo secure. As with the DoubleHaul, the TopWater is compatible with any crossbar style and shape. The TopWater weighs 32 pounds and measures 108x18x9 inches. MSRP: $549
ReelDeal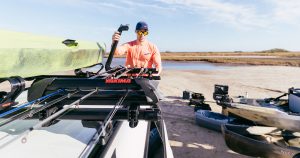 For a simple and cost-effective way of transporting fully rigged rods to any fishing hole, look no further than the ReelDeal. This two-piece rod carrier features tool-free mounting to any roof rack, including factory and aftermarket racks. The included Yakima SKS locks secure everything to the vehicle and the rack opens from the side for easy access to up to eight rods. Full-length rubber padding (15.5 inches) securely holds and protects rods during transit. MSRP: $169
About Yakima: A pioneer in vehicle racks and cargo management solutions since 1979, Yakima is known for its rugged and dependable products. Built for a wide variety of recreationists, Yakima products embody the company's commitment to quality and safety and its passion for the outdoors. Yakima Products, Inc. is headquartered outside of Portland, Oregon. For more information, visit yakima.com and follow Yakima on social media: facebook.com/yakimaracks, @YakimaRacks on Instagram and Twitter, and youtube.com/yakimaproducts.