Wild Country Climbing Presents 2020 Season Highlights
The Highly Anticipated Zero Friends, Session Harnesses And Stamina Backpack
Wild Country, a climbing company run by climbers, for climbers proudly launches a collection of equipment dedicated to Pure Climbing. The NEW Zero Friend, designed for narrow cracks, is back, along with a smattering of new harnesses and a backpack efficiently designed to carry everything you need.
Wild Country Friends, with a nearly 40-year tenure, has lead the way in climbing protection–and the new Zero collection is no different. The Zero Friends, are designed for narrow cracks and fast placements; offered from size 0.1 to 0.75. For this new version of the historic Wild Country Zero Friend(s), the cam angle has been changed: no longer 13.75° but rather a new constant angle of 17.6°. 17.6° has emerged as the perfect angle for narrow placements as it allows a larger range even in the very small sizes. The constant angle also ensures a distribution of forces regardless of the degree of opening of the Friend.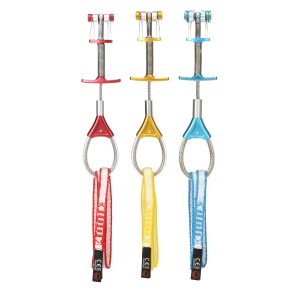 A lot of attention was paid to building the new Zero Friend. With a particularly narrow head: the sizes 0.1 and 0.2 have a cam head of only 27.9 mm, while the larger ones have a cam head of only 29.2 mm. The Zero Friend's shank has a sturdy steel cable enclosed in a metal spring that protects it. A design that allows precise positioning of the friend with minimal flexibility, and at the same time bends effectively and easily will being manipulated by opposing forces. The easy to grab ergonomic thumb loop offers a guided trigger system for accurate placements and removal. The Zero collection also offers an extendable Dyneema sewn sling so the climber can reduce the number of quick-draws needed on their rack. Measurements: 0.1 (red) – 0.2 (yellow gold) – 0.3 (blue) – 0.4 (silver) – 0.5 (purple) – 0.75 (green) Available individually or in sets of three Zero Friends.
The new Wild Country Session Men's and Women's harness is the new benchmark for comfort and safety. Lightweight and comfortable, the V-Flex construction embraces the body, taking into account the anatomy of all body types, while distributing pressure optimally across the harness for hangdogging, top-roping or in the event of a lead fall. The "Dura Weave" mesh construction is extremely abrasion-resistant and at the same time is highly breathable. The session harness is a multifunctional model with adjustable leg loops, four spacious rigid gear loops, one haul loop, and protective storage bag. Made of laurel green with fluorescent orange details, this new harness combines comfort and functionality. Sizes: S to XL (men's)  XS to M (women's)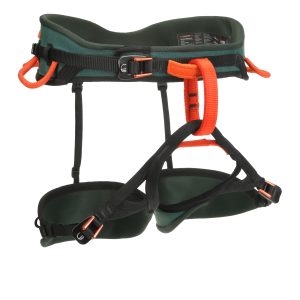 Stamina is defined by the body or minds capacity to sustain prolonged stressful conditions or activities. The new WILD COUNTRY Stamina climbing backpack was designed for this exact definition. The Stamina is a large capacity pack with plenty of storage for gear. The Stamina has a roll-up closure system, an abrasion-resistant ripstop face fabric and reinforced grab handles. This new climbers dream bag can be fully opened for stacking rope with the included rope-tarp, offers volume adjustment compression straps, ergonomic padded shoulder straps,  an adjustable, fully detachable belt and an external large pocket for incidentals.  everything, it is Available in Spring 2020 in laurel green with a fluorescent orange Wild Country logo.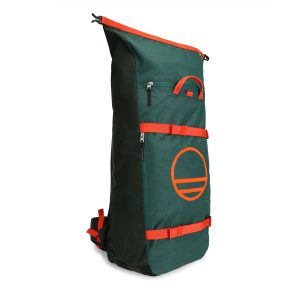 About Wild Country: Originating from Peak District, one of the UK's most famous climbing areas, Wild Country was founded in 1977 by UK-based climber, Mark Vallance. The company is now owned by Bolzano, Italy based The Oberalp Group and managed by Boulder-based Salewa North America in the U.S. and Canada – has since become the world-renowned climbing brand with a reputation for producing innovative, high-quality climbing products to meet the needs of modern climbers. More about Wild Country wildcountry.com
Media contact, Mike Eisenbrown | mike@meteoritepr.com |meteoritepr.com