Vim & Vigr, maker of stylish and comfortable compression socks for all walks of life, celebrates a decade in business with record growth in 2023.
Launched with a single style of compression socks in 2013, Vim & Vigr has grown to include dozens of styles, three compression levels, four custom fabric blends and over 1,300 retailers worldwide. In 2023, the brand had its best year on record with revenue doubling from 2021. Year-over-year top-line revenue grew by almost 60 percent with the bottom-line exceeding 200 percent growth while maintaining high quality and style.
"10 years ago, I took a leap of faith launching Vim & Vigr by bootstrapping our order for 10,000 pairs of compression socks in our first production run," said Michelle Huie, founder of Vim & Vigr. "I really felt that there was a market for Vim & Vigr and people were ready for something more than the medical or athletic-look that had become synonymous with compression socks. Luckily the research and my hunch paid off and our first order of 10,000 pairs sold out in three months! One of the best aspects of starting the company has been watching it grow from a side hustle to building an amazing team of passionate, hardworking people that love working together to achieve a common goal. I'm proud of the work we've accomplished and the level of education we've provided our customers around the benefits of compression taking it from rather dull and medical to vibrantly mainstream."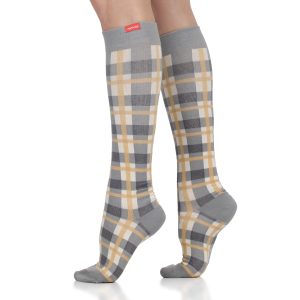 From the start, Vim & Vig has combined compression with style to create socks and legwear featuring fashionable designs, happy colors and custom fabric blends. Unisex styles are woven utilizing state-of-the-art machines so they maintain compression levels throughout the day for proven comfort and ease of use. Compression socks can be worn all day every day and provide scientifically-proven benefits for a broad range of uses including travel, athletics, work, pregnancy, chronic illnesses and beyond.
To preview the latest collection or for more information on Vim & Vigr's graduated compression socks and legwear please visit www.vimvigr.com.