Twisted X, a Twisted X Global Brands company, announced the launch of Tech X, next-level comfort for Western cowboy boots.
Using Twisted X's patent-pending CellStretch technology, featured in Twisted X's work, outdoor and casual collections, Tech X marks the first cowboy boot with "cloud-like comfort" built into a Western boot.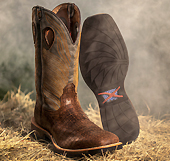 "The Western footwear industry has seen a variety of collections but none quite like this," said Twisted X VP of Western, Monte Nelson. "Twisted X has been working on this line for the past four years, and I'm excited to see what the future has in store as we pave the way toward a new chapter in footwear where we take comfort in Western boots to a whole new level."
The brand's CellStretch technology provides stability and durability without altering the boot's profile to preserve the traditional Western look.
"Twisted X is continuously seeking ways to bring innovative concepts and comfort technologies to the footwear industry, and Tech X is exactly that," said Twisted X CEO, Prasad Reddy. "We started as a Western brand before growing into our other markets, so this new line is particularly meaningful to Twisted X as it serves our most loyal consumers and honors our heritage."
Tech X will be available in six styles with rubber outsoles, with more styles scheduled to launch next year. Tech X will be available at authorized Twisted X retailers, in-store and online, beginning November 2021.
Photo courtesy Twisted X