Toray Industries, Inc. has announced Kudos XT, a new Durable Waterproof Treatment delivering higher levels of durability for both abrasion and machine washing.
The breakdown of DWR treatment and subsequent "wetting out" of a garment's outer layer has been a top consumer complaint since the advent of waterproof/breathable fabrics. DWR treatments improved over time, but consumers objected to the new levels of toxicity, culminating with C8 DWR, which has been banned in many markets.
Toray has solved both problems with Kudos XT.
Kudos XT is available in a PFC-Free version, as well as C6, a level far less toxic than C8. Each version prevents an outer layer from wetting out, even under heavy rain conditions. Both treatments have excelled under real-world testing for both rain and abrasion resistance.
After 50 wash cycles, Kudos XT maintains over 80 points in the JIS L 1092 Bundesmann Rain Test.
After 100 wash cycles, it exceeds 80 points in the JIS L 1092 Spray Test.
50 wash cycles is enough to completely degrade most DWR treatments, (see photos below), but water still beads up and runs off fabrics treated with Kudos XT.
After a successful debut at ISPO 2020, Kudos XT is targeting diverse markets like outdoor, snowsports, athleisure, sportswear, and work uniforms.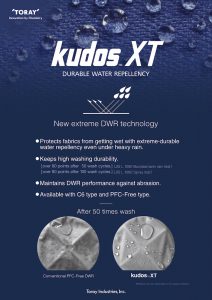 Kudos XT was developed in accordance with Toray's Green Innovation Business Expansion Project, through which Toray is building its position in energy conservation, biomass, recycling, and diverse other fields to deliver lasting environmental, resources, and energy solutions. Toray will continue to leverage innovative, advanced materials to help the world overcome its challenges and progress sustainably for generations to come.