Toray Industries, Inc., today announced that it will exhibit at the China Composites Expo 2019, the largest composite materials exhibition in Asia. The event will be held in Shanghai, China, from September 3 to 5, 2019. Booth #415, Hall 1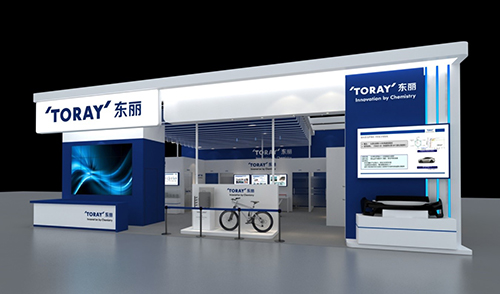 The Toray booth, No. 415 in Hall 1, will showcase solutions that leverage the comprehensive capabilities of the Toray Group to meet the needs of customers while featuring the company's extensive technologies and broad portfolio of products. It will also highlight the contributions being made by Toray's carbon fiber composite materials in the areas of mobility, energy, and quality of life. These materials have been developed not only to improve convenience in daily life, but also to enhance performance in the fields of sports, energy and conveyor equipment, where there is a growing need for the reduction of CO2 emissions and other environmental measures.
TORAYCA® T720 and T800 carbon fiber are used for hydrogen tanks, while TORAYCA®T700 is used to make cable cores. In addition, TORAYCA® fast-curing prepreg has been chosen for the manufacture of automobile bumpers. By using prepreg that combines the world's strongest carbon fiber, TORAYCA® T1100G, with Toray's proprietary NANOALLOY®* technology, prepreg applications are being expanded to include aerospace products, as well as high-end sports and racing cars.
Toray is also focused on industrial applications where demand is expected to increase in the future, especially automotive structural components. In response to increasing demand and diversifying needs, the company has started mass production of TORAYCA®GT Z600, a carbon fiber with excellent cost performance. Z600 has intermediate properties between large tow carbon fiber, produced by Zoltek, a Toray subsidiary in the United States, and regular tow, which has a proven track record in pressure vessel applications. Samples of Z600 will be on display at the Toray booth.
Toray has positioned its carbon fiber composite materials as a strategic business for expansion under its medium-term management program, Project AP-G 2019. Accordingly, it is actively investing management resources to promote business expansion as well as research and technology development. Going forward, Toray wants to keep transforming society with the power of materials, by further enhancing cooperation within the Toray Group while responding rapidly to market needs.
*NanoAlloy® is Toray's proprietary, innovative microstructure control technology, which realizes dramatic property enhancement compared to conventional materials by enabling fine dispersion of multiple polymers on the nano level. This technology produces polymer materials with high performance and functionality that cannot be realized in an alloy on the regular micron level (scale equivalent to one-millionth of a meter). The basic patent and main manufacturing and application patents are held exclusively by Toray.