Dedicated to building footwear that is 100 percent MUCKPROOF™ (remarkably protective, exceptionally comfortable and totally waterproof), The Original Muck Boot Company will introduce its new Outscape and Forager styles for Spring '21.  While the Muck Outscape is inspired by the popular Muckster II gardening collection and the Forager is based on classic Muck tall rubber boot styles, both take on new silhouettes for more versatile end uses for today's on-the-go consumer.
"Our new styles for Spring '21 represent a next generation for Muck while also staying true to our farm/agriculture roots and core consumer needs around protection, comfort and durability," said David Mesicek, chief marketing officer at Honeywell Retail, parent company to The Original Muck Boot Company. "While developed under the influence of tried and true Muck styles, the Outscape is a new concept in footwear that offers the modern look, comfort and performance of a sneaker but with the waterproof and durable protection you expect from Muck.  The Forager is a boot very unique unto itself in that it is both travel-friendly, as it packs down easily, and performance-based with a great retro style factor that can take our wearer from spring farming to foraging in the woods for morels to day hikes to music festivals."
The Muck Outscape was built to provide 100 percent waterproof performance and versatility for active outdoor work and exploration, no matter if the task at hand is working in the garden, in the barn or out hiking with the dog.  Available in two different heights (ankle and low) for all genders, the Outscape offers easy on/off and features a Dual Density Comfort footbed with antimicrobial protection.  While self-cleaning outsole lugs allow for optimal traction, a Guarden™ Rubber toe and heel provide durability for more extensive wear.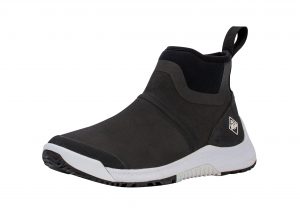 The Muck Forager is Muck's first travel-friendly, tall boot.  Its lightweight yet durable rubber design is pliable enough to easily roll and pack, and so versatile that it can be worn at three different height options.  Designed for on-the-go comfort and fit, the Forager is 100 percent waterproof, features a Dual Density Comfort footbed, and offers an adjustable closure system and scree collar to keep debris and water out.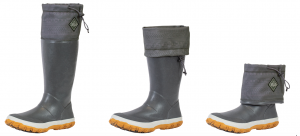 About The Original Muck Boot Company:  It all started with a universal problem – muck. Wet, messy, muddy, dirty muck. Determined to find a solution for keeping feet warm and dry through it all, Muck Boots began, out of necessity, to build premium, protective, reliable boots that offer exceptional comfort in every element. That's how The Original Muck Boot Company was born, providing 100 percent waterproof boots and footwear that withstand the muckiest situations in every season. Over the past two decades, Muck has had the freedom to innovate, experiment, and test products in every single element – because outside, there are way more than four seasons. muckbootcompany.com
Get Social with Muck Boot Company at @Facebook.com/muckbootco; @muckbootco on Instagram