SylvanSport, industry innovators of the camper lifestyle, continue to break the mold with the VAST camper. An extraordinary new travel trailer, the VAST has been reimagined with breakthrough design and engineering. SylvanSport's biggest camper yet, the VAST boasts premium-quality, highly efficient and extremely comfortable features, all while remaining lightweight and uber mobile.
"Just like we re-invented the pop-up camper with our SylvanSport GO, We set out to reinvent the travel trailer with our VAST," said Tom Dempsey, CEO and lead designer for SylvanSport. "It's so elegantly forward thinking in how it combines comfort and total functionality."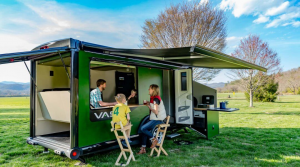 The VAST, measuring 21.5 ft long x 7.9 ft wide x9.5 ft high, is comprised of modular lounge and sleep systems that reset all expectations. Concentrating on luxurious comfort and high quality materials, the travel trailer features a precision track system that maximizes its living and playing space. Impressive and effortless, the entire lounge space moves forward, opening up an interior cargo area for gear storage, all while fully functional seating is maintained. When it's bedtime, the lounge's premium cushions easily convert into a cozy queen-size bed – while a second bed is stowed out of the way – and lowered from the ceiling using a motorized lift system. These full, residential queen-sized mattresses boast a degree of comfort and leisure that the travel trailer market has never seen!
Sleeping isn't the only thing made easy with the VAST, as the indoor/outdoor convertible kitchen revolutionizes al fresco dining. The all-season kitchen unit also moves in and out using SylvanSport's patented "easy-slide" technology, encouraging maximum vista-watching enjoyment while cooking. To finish it off, the modular storage system allows for top-notch domestic appliances, including a 2-burner gas stove, portable refrigerator, freezer, and integrated sink.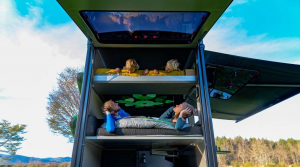 "From the exclusive, multi-functional slide-out kitchen to the lounge's cool lighting system to the side-mount boat racks, we created the Vast to deliver a super-fun, unique camping experience, inside and out. If you're looking for adventurous, comfortable camping, then this was designed for you," said Kyle Mundt, SylvanSport's VP of new product development.
Not just technically impressive and aesthetically pleasing, the VAST is also practical. Designed to store your equipment conveniently and securely, the side-mounted rack system features vertically built-in rails from top to bottom, allowing the entire side of the camper to store any large gear, like stand-up paddle boards, kayaks or canoes. Boats can also be attached effortlessly at an easy-to-reach position. Because of the sliding functionality, there is additional, substantial cargo space in the back to securely store more valuables (and more toys!), all while the lounge space remains fully functional.
The anterior storage pod also slides forward to reveal protected storage for two propane tanks, two batteries and spare tires. The pod itself retains 18 cubic feet of storage space and a lock for maximum protection and security. On the flip side, the entire back opens for weather protection and easy loading, featuring a built-in screen and sunshade to keep you sheltered while you pack and unpack. Inside, a residential-sized shower and spa area (featuring an on-demand water heater) are revealed when the convertible kitchen is extended to the outside position.
Technically sound, a designers dream, and a gear-heads haven, the VAST, in short, is the Coolest. RV. Ever. For more information, and details about pricing and pre-ordering, visit sylvansport.com/vast/