Apex, NC, December 30, 2019—STITCH Golf announces the release of four new layering pieces-a perfect combination of style, performance and function. Designed to flow seamlessly from the course to the office these new highly functional tops encompass brand new color stories offering a fresh look that gives added depth to these seasonal palettes.
"We created these new layering pieces for comfort and performance while staying true to our roots," stated Brad King, CEO of STITCH. "These pieces, ranging from ¼ zips, to crew neck sweaters to our new hoodie, are sure to be basic staples for today's discerning golfer and re-emphasizes the importance we place on versatility."
STITCH Golf continues its innovation by incorporating cutting edge technically advanced fabrics to create a rich hand feel with a sophisticated style all created and inspired for today's modern golfer. By creating cohesive looks with details that perform, STITCH Golf has made it easy to dress your game to match your style and personality.
Daytona: Your favorite STITCH sweater created with all the STITCH details. Constructed with our super soft 100% extra fine merino wool, the Daytona ¼ zip placket sweater is equipped with our reengineered technical zipper that has a locking mechanism that ensures your zipper stays right where you want it. Offered in some of our favorite colors, including Stitch Navy and Stitch Blue, these sweaters pair perfectly with any of our polos.
Monza Colorblock: You can never have too many gray sweaters. We're feeling colorblock this season and this Monza crewneck is a favorite.  Made from 100% Italian merino wool, this 4-way stretch sweater could be your new favorite too!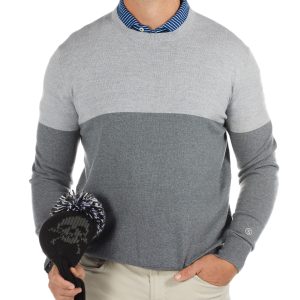 Grand Prix Colorblock: When you can't decide between Stitch Blue or Stitch navy, we have you covered in our Grand Prix colorblock pullover. Updated with our exposed technical zipper, breathable fabrics, ribbed cuffs and collar, this sweater will keep you warm both on and off the course.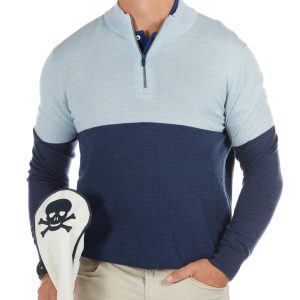 Race Block Full Zip: A STITCH designer favorite. This sweater has it all: colorblock details, full zip, signature orange grommets and a hood…what more could you ask for? This light weight sweater can be worn year round and is perfect whether you are hitting the links or strolling the city streets.
Stay connected with STITCH Golf on Twitter, Instagram, and Facebook at @StitchGolf
About STITCH Golf: Founded in 2012 as a headcover company, STITCH is known for designing and creating products with a precise attention to detail, all the way down to the last stitch. Based in Apex, North Carolina, STITCH gives a unique experience, whether it's the high quality leather used in our headcovers, the durable waterproof fabrics in our bags and gear or the fashionable color schemes seen in our apparel. STITCH products are designed to be effortlessly fashionable, allowing you to create a stylish, comfortable and color-coordinated look-on and off the course. Designed with details that perform, our line of golf bags and gear, travel bags and apparel combine function and fashion with three themes in mind: DRESS YOUR GAME™, ARRIVE IN STYLE™ and FROM WORK TO PLAY™. stitchgolf.com
For more information, contact:
Stuart Goldstein
RG Narrative Inc.
(W) 212-863-4109
(M) 201-681-0618