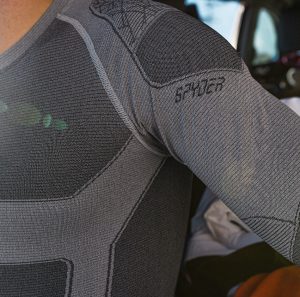 Boulder, CO, October 31, 2019—Spyder, a leading ski and performance brand, today announced a strategic partnership with Eastman Chemical Company to be the first brand to incorporate Avra™, a new flat-shaped performance microfiber technology into Spyder's performance baselayer and mid-layer products. Avra™ performance fibers both wick moisture and dry up to 50% faster than conventional polyester fibers, solving for the weak link that has long plagued performance ski apparel.
The U.S. Ski Team first tested fabrics made with Avra™ as a baselayer worn inside their race suits during the 2018 competitive season. Following extensive athlete testing, Spyder brings Avra™ performance fiber technology to consumers for the first time this season through an exclusive collection that includes next-to-skin tops and bottoms as well as mid-layers. This advancement is a game-changer for the industry. Without baselayers that successfully manage sweat, even the most futuristic and lightweight waterproof-breathable ski apparel will not perform to their full potential.
"Spyder's history of pioneering new technologies in performance apparel made it the perfect strategic partner for the launch of Avra™. Working with Spyder allowed us to test Avra™ with the U.S. Ski Team and receive insightful feedback from some of the most elite skiers in the world," commented Ruth Farrell, Director of Marketing, Textiles at Eastman.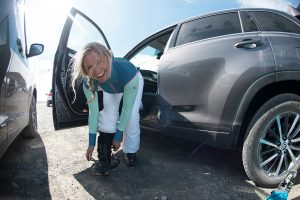 Spyder has incorporated Avra™ into a full range of baselayer and mid-layer products for men and women, including the Sunset zip turtleneck with retro resort graphics, Momentum long sleeve baselayer top, and wool-blended Elevation baselayer pants.
The unique performance aspects of Avra™ come from its small size relative to the high surface area of the flat-shaped fiber. The tiny, ribbon-like microfibers provide a high ratio of surface area, which allows moisture to move quickly along the surface of the fiber and spread further, wicking up moisture from the skin and allowing it to evaporate quickly. This results in a cooling phenomenon known as "evaporative cooling." The flat microfibers are also highly flexible, which contributes to the soft hand feel and silky drape, allowing for superior comfort when incorporated into industry-leading fabric blends. Avra™ from Eastman is created with a proprietary spinning technology that is woven or knitted with other synthetic or natural fibers, infusing the qualities of Avra™ to the newly blended fabric.
"Baselayers are critical to completing the total package of performance and comfort on the mountain, but for many, they tend to be an afterthought. Wearing the best ski jacket with a poorly performing baselayer is similar to driving a racecar with under-inflated tires; it just won't live up to its potential," said Brady Collings, Vice President of Marketing for Global Brands Group Sports And Lifestyle Division. "Avra™'s performance fiber technology is truly extraordinary, and Spyder's exclusivity with it is another example of how we look to lead the industry through partnerships that bring innovation."
To learn more and to shop the collection, visit Spyder.com or visit nationwide retail partners that carry Spyder to experience the new Avra™ performance fiber technology product first-hand.
The women's Avra™ collection can be seen online at spyder.com/collections/womens-avra and the men's can be found at spyder.com/collections/mens-avra.
About Spyder: Spyder is one of the world's most recognizable and credible outdoor sportswear brands. Focused on enhancing the ski experience both on and off the mountain, Spyder prides itself on its advanced technical composition and style. As the official outfitter for the U.S. Ski Team for over 30 years, Spyder offers technical ski, fitness, swim and lifestyle apparel and accessories for men, women, and children. The highly sought-after brand is available in over 140 direct-to-consumer retail outposts globally as well as department stores, sporting goods stores and specialty retailers throughout North America, Europe, Middle East, South Korea and China. For more information, visit spyder.com. Follow @spyderactive on Instagram, Facebook and Twitter.
About Eastman: Eastman is a global specialty materials company that produces a broad range of products found in items people use every day. With the purpose of enhancing the quality of life in a material way, Eastman works with customers to deliver innovative products and solutions while maintaining a commitment to safety and sustainability. The company's innovation-driven growth model takes advantage of world-class technology platforms, deep customer engagement, and differentiated application development to grow its leading positions in attractive end-markets such as transportation, building and construction, and consumables. As a globally inclusive and diverse company, Eastman employs approximately 14,500 people around the world and serves customers in more than 100 countries. The company had 2018 revenues of approximately $10 billion and is headquartered in Kingsport, Tennessee, USA. For more information, visit eastman.com.
About Authentic Brands Group: ABG is committed to transforming brands by delivering compelling product, content, business and immersive experiences. It creates and activates original marketing strategies to drive the success of its brands across all consumer touchpoints, platforms and emerging media. ABG's portfolio of iconic and world-renowned brands generates $9.4 billion in annual retail sales and includes Marilyn Monroe, Mini Marilyn, Elvis Presley, Muhammad Ali, Shaquille O'Neal, Sports Illustrated, Dr. J, Greg Norman, Neil Lane, Thalia, Michael Jackson (managed brand), Nautica, Aéropostale, Juicy Couture, Vince Camuto, Herve Leger, Judith Leiber, Frederick's of Hollywood, Nine West, Frye, Jones New York, Louise et Cie, Sole Society, Enzo Angiolini, CC Corso Como, Hickey Freeman, Hart Schaffner Marx, Adrienne Vittadini, Taryn Rose, Bandolino, Misook, 1.STATE, CeCe, Chaus, Spyder, Tretorn, Tapout, Prince, Volcom, Airwalk, Vision Street Wear, Above The Rim, Hind, Thomasville, Drexel and Henredon. For more information, visit authenticbrandsgroup.com. Follow ABG on Twitter, Linkedin and Instagram.