SPY+ augmented reality filter is giving retailers and brands an unrestricted way to showcase and experience its latest Marauder snow goggle. "SPY+ is the first eyewear brand to use Google's Swirl technology to engage consumers and drive retail traffic to sell more product in-stores and online, " said the brand.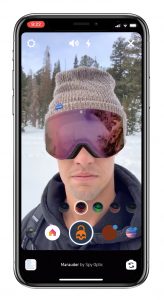 Spy+ continued, "The tangible in-store marketing elements SPY+ developed to support retail partners, including in-case QR codes located within display cases, also overcomes the largest barriers to retail sales in the current shopping environment. In addition to eliminating sanitary concerns that have arisen during the last year because of the COVID-19 pandemic, the augmented reality solution also addresses one of the critical barriers facing premium eyewear brands – the try-on. With the new SPY+ augmented retail experience, a customer's need to touch a goggle before a purchase is virtually eliminated.
"The SPY+ augmented retail experience provides skiers and snowboarders with the opportunity to try on and try out SPY+'s Marauder snow goggles in an immersive, contact-less approach wherever they are. Global leaders in other industries have seen significant spikes in brand awareness and purchase intent when their customers view products using augmented reality filters. Where some brands leverage augmented reality filters for their direct-to-consumer business, SPY+ designed a fully-immersive online and offline marketing program to help retailers use the experience to sell to their customers both in-store and online.
"Customers who visit physical retail stores can scan a QR code from a display case, or outside store windows, for a contactless try-on of the latest SPY+ goggle. The experience digitally transposes the goggles onto the face of the user, allowing them to see firsthand how they look in, and would see through, the latest goggle from SPY+. Those browsing a retailer's inventory online can have the same experience by scanning a code from their computer monitor or by clicking a link if they are already shopping on a smartphone. In addition to helping sell-through, customers are less likely to return their products purchased online since they already know how they'll look while wearing them."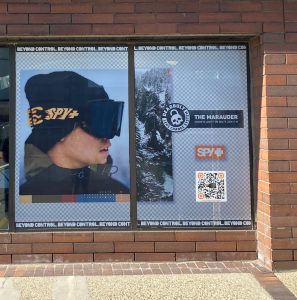 "SPY+ is using tech to sell tech for the upcoming snow season, and our commitment to the wholesale channel is proven through the retail support activations we have surrounding the augmented reality filter. It's been a challenging year for us all, but skiers and snowboarders are eager to get to the mountains. Our team has developed a plan that includes online and offline components to help retailers show and sell the new Marauder goggle," said Matt Kelly, SPY+ trade marketing manager.
The customer experience also goes beyond Instagram with interactive 3D models featuring interactive points highlighting the design elements of the SPY+ Marauder allowing the user to see how they would look while wearing the goggles from various angles, and then flip the view to see the color and contrast-enhancing Happy Lens in action during different climate conditions.
SPY+ is increasing its relationship with both ENDVR and Promoboxx to ensure that traffic is not only being driven to retailers online, but in-store employees have the knowledge and incentives to deliver a quality experience to its customers.
For more information, go here.