Six Moon Designs announced its 2021 pack collection—the Flight 30 Ultra, a light day/weekend pack; Swift V, a value-priced load-bearing pack; and the Flex PR rafting pack.
Flex Pack PR |
best for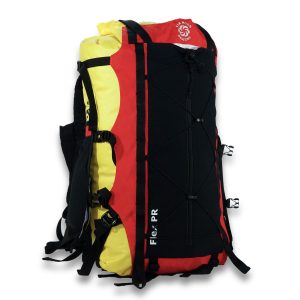 packrafting, canoe/kayak portage
The redesigned portage pack is built using the same load distribution suspension system as the brand's lightweight backpacks. Originally designed for packrafting, the Flex Pack PR can handle a fully loaded 50L dry bag (included) to a portage barrel, with four lashing points for attaching it securely to a boat. Features include a large gusseted front stretch pocket with zipper, an 8-inch wide stash pocket that runs the entire length of the front pocket for stashing a packrafting paddle, two removable water bottle pockets, and two removable load-stabilizing straps for bigger loads. More product information
here
.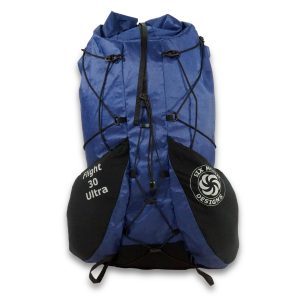 Flight 30 Ultra | best for trail running, mountain biking and speed hiking
The Flight 30 Ultra is a 30L daypack or multiday pack for the ultra-light adventurer. It's leaner than similar packs, making it easier to negotiate through tight trails and more comfortable while trail running or riding. The frameless pack has an adjustable torso length to tailor the pack to various situations. The large capacity bottom pocket made of stretch woven nylon stashing accessories. More product information,
here
.
Swift V
| best for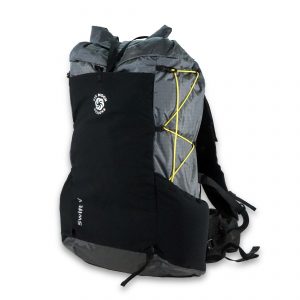 backpacking and thru-hiking
Based on the 2020 Swift X, the 49L Swift V is now available in Robic Nylon material for the budget-conscious hiker, with a cost savings of about 20 percent over the Swift X. Using the brand's Fast and Light suspension system, the Swift V is designed for carrying heavy loads comfortably and for longer periods of time. With the option of using the vest or shoulder straps, the Swift V is configurable for the user's body type and for various activities and adventures. More product information,
here
.
Photos courtesy Six Moon Designs