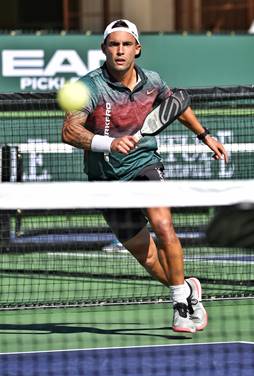 Pickleball's growth prompt's 50-percent incentive pool increase from 2018; $77,400 on the line at U.S. Open April 27- May 4; Tyson McGuffin, the No.1 ranked pickleball player in the world headlines team Selkirk.
Selkirk Sport, the leading Pickleball paddle and accessories brand is taking professional pickleball to new heights, as the Company announced $300,000 will be available as part of the 2019 Player Incentive pool, a 50% increase from 2018. As part of the incentive program, $77,400 will be up for grabs to Team Selkirk members at the upcoming US Open Pickleball Championships, April 27 – May 4 at East Naples Community Park in Naples, Florida, where Team Selkirk's Tyson McGuffin, the #1 ranked singles player in the world looks to defend his title.
Selkirk's Player Incentive Pool for 2019 is offered to brand ambassadors as a bonus to the tournament prize money, and in many cases, the Selkirk incentive pool prize money is greater than the tournament purse.  The player incentive pool is for the top finishers in each respective professional Pickleball division, including singles, doubles and mixed doubles (Open & Senior Open Divisions), with a Triple Crown Bonus if a Team Selkirk Athlete captures first place in all three divisions. Currently, a $4,000 top prize is on the line at the US Open, if a player/team wins the National Men's (Singles & Doubles), National Women's (Singles & Doubles) or Mixed Open Division, with a $6,000 Triple Crown Bonus available if an individual captures all three. Players must enroll in the Selkirk incentive pool program to be eligible for prize money and must compete with a Selkirk Paddle.
"Increasing our incentive pool by 50-percent to $300,000 reinforces our overall commitment to support our brand ambassadors while continuing to invest in the growth of Pickleball," said Rob Barnes, Managing Partner, Selkirk Sport.
In addition to McGuffin, Team Selkirk's elite line-up of more than 100 brand ambassadors includes Kaitlyn Christian, a 27-year old Professional Tennis Player ranked 38th in the world in Doubles by the WTA; JoAnne Russell, 1977 Wimbledon Doubles Champion; Cammy MacGregor, former Top 75 Professional Tennis Player, 2018 US Open Senior Pickleball Singles Champion and winner of the 2018 USA Pickleball National Championships in Senior Singles & Doubles, among many others.
To complement the U.S. Open incentive pool, Selkirk will offer the incentive pool at major championships on the professional pickleball circuit highlighted by the $122,800 that will be available at the 2019 U.S. Nationals at Indian Wells Tennis Garden in November, with a $10,000 Triple Crown Bonus.  Additionally, more than $50,000 will be on the line at the 2019 Tournament of Champions in Brigham City, Utah in September. The line-up of tournaments where Team Selkirk Ambassadors will have an opportunity to earn additional money includes the Beer City Open, Canadian Nationals, and Texas Open in addition to recent tournaments, The Lakes Spring Fling and The International Indoor Pickleball Championships.
More than 100 Team Selkirk athletes will compete on the professional circuit equipped with the innovative AMPED Series, a high performance, Made-in-the-USA line of pickleball paddles that combine revolutionary FiberFlex Fiberglass face technology, a thicker X5 polypropylene core, and a unibody design. Available in 5 distinct models Invikta, Epic, Maxima, S2, and Omni) suited for all styles of play, and a series of vibrant color stories, Selkirk's AMPED Series delivers increased power, precise ball control, and a larger sweet spot – the most critical benefits to maximize performance.
For more information on Selkirk Sport, Team Selkirk's stable of Professional Pickleball Ambassadors and the innovative AMPED Series paddle line-up visit selkirk.com. To follow the Company through social media please visit Selkirk on Facebook at facebook.com/SelkirkSport/ or Twitter @SelkirkSport.
About Selkirk Sport: Selkirk Sport, a Made-in-the-USA Manufacturer of Pickleball paddles and accessories, is a family-owned and operated company based in Hayden, Idaho, located in the shadows of its namesake, the Selkirk mountain range. Founded in 2014, Selkirk Sport is born off a passion for sport, as well as the great western outdoor leisure lifestyle that was afforded to the Company's founders, Rob and Mike Barnes, along with their father Jim, who is Selkirk's production manager. Backed by the philosophy of always pushing the limits, Selkirk Sport is committed to manufacturing products that deliver the highest performance with unmatched quality and service.  As part of their early success, Selkirk Sport was the very first Pickleball manufacturer to offer an unprecedented lifetime warranty on its high-performance products. And, to meet the demands of the game's premier professionals, the Company developed low-profile edgeguards that are lightweight and extremely durable. In just three years, Selkirk Sport has become one of the industry's fastest growing companies, and their paddles are used by many of the game's premier players, such as Tyson McGuffin, Morgan Evans, Cammy MacGregor, Kaitlyn Christian and a host of others who are premier players and national/regional champions.
About Pickleball: Pickleball was invented by three dads in 1965 as a way to entertain their children during summer. The families resided on Bainbridge Island, Washington. Congressman Joel Pritchard, Bill Bell, and Barney McCallum fashioned handmade equipment and based the simple rules on the existing sports of tennis, badminton, and ping-pong. Unlike Tennis, Racquetball and many other sports, Pickleball has a short learning curve; you don't need months of lessons to participate in a fun game. It also is less running compared to Tennis. However, at the same time, it can be very competitive and addicting for all ages, as well as an excellent, fun family activity. Pickleball can be played as both singles and doubles game, and can be played inside or outdoors, on a court that uses the dimension of a doubles badminton court, along with a modified tennis net. A Pickleball court is 20' x 44' for both singles and doubles. The net is hung at 36-inch at the ends and hangs 34-inch in the middle. A non-volley zone – called the Kitchen – extends 7-feet back from the net on each side.