Following the launch of Selkirk Labs, the consumer-powered design collaborative, Selkirk Sport, the pickleball paddle and accessories brand, debuted Vanguard Power Air, a next-gen pickleball paddle engineered with advanced materials,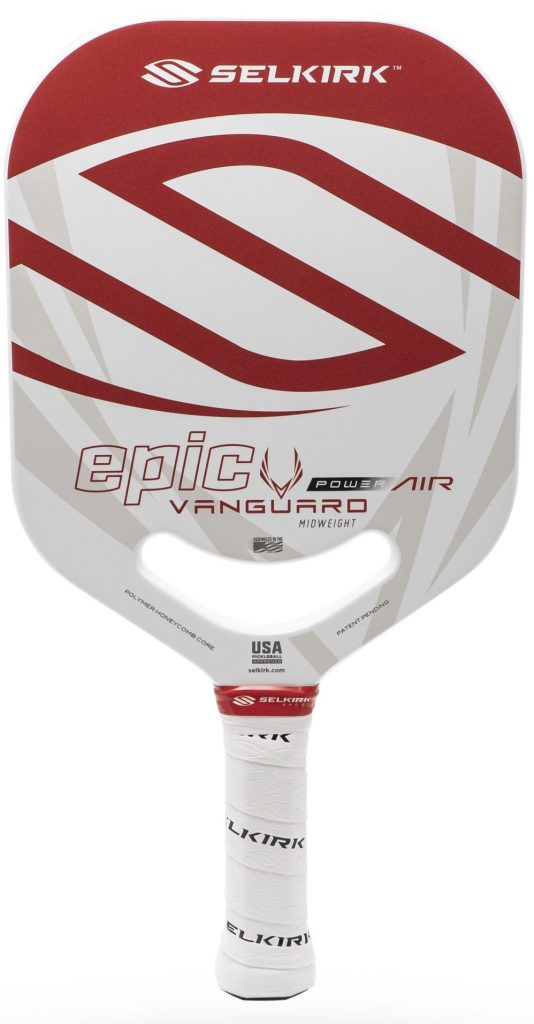 Vanguard Power Air was developed in the Selkirk Lab where pickleball players worked with the company's development team and offered their insights into the creation of the Vanguard Power Air to create the maximum spin for controlled, aggressive drives. 
Featuring a larger sweet spot than traditional power paddles, Vanguard Power Air integrates innovations led by its Air Dynamic Open throat that delivers optimal airflow for faster swing speed and improved ball control combined with ThroatFlex technology extending dwell time on the paddle, enhancing overall power and consistency. It also includes FlexFloam Perimeter technology a specially formulated foam injected into the perimeter of the paddle, which increases durability, adds weight, enlarges the sweet spot, and absorbs the vibrations during play for a stable and more reliable feel.
 "We continue to invest in the most advanced technology to design new paddles, and the collaboration between avid pickleball players and our R&D team through Selkirk Labs is truly transforming and redefining product development," said Mike Barnes, co-founder, Selkirk Sport. "VanguardPower Air is an optimized version of a previous Selkirk Labs project as we continue to elevate product development to an entirely new level, and we anticipate most of our future mainline products will be inspired by and developed in Selkirk Labs."
Additional features include:
 

Aero-DuraEdge Edgeless Technology,

 

an impact-resistant blend of composites and polymer that promotes a larger sweet spot;

ProSpin+ NextGen Micro Texture

technology featuring a longer spin surface providing consistency and increased spin whereby players can more efficiently shape and control their next shot; 

QuadFlex 4-Layer Hybrid Face

, developed in Selkirk Labs, with two layers of Fiberflex and two layers of Quantum+ carbon, for power and control and a SuperCore Polymer Honeycomb Core, for power while enhancing ball control; and

360° Proto Molding,

the paddle is

 

engineered to provide 360° composite coverage. Using a proprietary high-pressure manufacturing process, 360° Proto Molding technology generates power with a consistent feel during play.
The paddle comes in three shapes:
Epic—pairing a traditional paddle shape with a large surface area and a long handle;
S2—standard paddle shape with a short handle and the largest sweet spot of all Selkirk paddle shapes; and
Invikta

—featuring a long handle and the longest paddle shape favored for its increased sweet spot size.
Tyson McGuffin leads Team Selkirk, a six-time major champion and one of the top-ranked professional pickleball players in the world in both singles and doubles; Cammy MacGregor, one of the top-ranked senior players and former Top 75 women's professional tennis player; Wes Gabrielsen, 11-time National Champion; Morgan Evans, coach to the world's elite pickleball players; Kaitlyn Christian, professional tennis player, Top 50 in doubles on WTA Tour; Joanne Russell, 1977 Wimbledon Doubles Champion; and Sherri Steinhauer, former LPGA major champion and four-time U.S. Solheim Cup winner.
For more product information, go here.
Photo courtesy Selkirk Sport