OGDEN, UTAH (Sept. 13, 2022) — Salomon, a leading global outdoor sports brand based in the French Alps, today unveiled a new brand signature, updated logo, and brand campaign video as part of the company's objective to inspire a new, younger audience of outdoor enthusiasts and athletes to unleash the best version of themselves. The new "Tomorrow is Yours" Salomon brand signature and campaign video are based on the belief that by tapping into the inventor that lives within all of us, and by daring to reach our full personal potential, each of us can play a role in shaping the positive future we imagine.
"At Salomon, we believe that forging a deeper connection with nature and the outdoors can improve peoples' lives and make us all better," says Salomon President and CEO Franco Fogliato. "The company has a proud heritage of inventing the future of sports by imagining and creating high performance sports products. Our legacy has been built by people who approach every day with a brave, curious mindset and a belief that we all have the power to make an impact. We believe this new brand direction appeals to a growing audience of young outdoor enthusiasts who believe they can do the same."
As the global leader in winter sports and trail running, Salomon is positioned to grow its business across North America in the years ahead by increasing its leadership position in these core sports and attracting new consumers through other growing business categories like sportstyle footwear and road running.
Independent studies have highlighted the significant physical and mental health benefits of physical activity and being in nature, and interest in the outdoors has increased tremendously in recent years among young people, many of whom live in or near urban centers. Research has shown that these new outdoor sports participants often connect with Salomon through different avenues than previous generations of brand loyalists—particularly via the company's hiking, sportstyle footwear, and road running offerings.
The new "Tomorrow is Yours" brand direction has been conceived in partnership with the brand's global creative agency, DDB Paris, to better connect with these young consumers who see nature as a place to grow, to create, and to connect with others, but also a place to be cared for and respected. Fogliato says that even as the brand's audience expands, superior sports performance will remain at the heart of everything Salomon does.
"Going forward, we aim to inspire a wider, younger audience to connect with the outdoors, but Salomon is first and foremost a performance sports brand," says Fogliato, an avid trail runner and skier himself. "From alpine and nordic skiing to trail running and hiking, all of our products will continue to be designed to perform in the most demanding and competitive outdoor sports environments. We will never compromise on that."
Brand video inspires community members to share new outside experiences
To kick off the new "Tomorrow is Yours" brand campaign, Salomon worked with DDB Paris and Paris-based directors Valentin Petit and Gabriel Duguev on a new brand anthem video that encourages viewers to connect with the inventive mindset that has guided Salomon for 75 years and to discover it within themselves.
The one minute and 50-second video is a celebration of Salomon's thrill-seeking heritage and fuses familiar Salomon outdoor sports clips with imagined tricks as the viewer travels from city streets and nightclubs to high mountain running trails and backcountry ski terrain. It features dancers, artists, and 10 Salomon international athletes—snowboarder Tess Coady, freeskiers Nico Vuignier and Alexi Godbout, ultra-runners Courtney Dauwalter and Francois D'haene, nordic skier Jessie Diggins, alpine ski racer Marta Bassino, and trail runners Anaïs Quemener and Maximilian Zeus.
The new brand video will also act as an inspirational call for the Salomon community to share social media videos and photos of their own experiences trying something they've never done before using the hashtag #TomorrowIsYours. Whether it's a new trick in their favorite sport, picking up trash during a run, or taking someone on a new outdoor experience for the first time, Salomon is asking its community members to dare to step beyond their comfort zone and share their experience.
Salomon gets logo and monogram update from design team that includes former Salomon snowboard icon David Benedek

Salomon's familiar "S" monogram and brand logo have both evolved over the company's 75-year history as they adorned the brand's iconic winter sports equipment, footwear, technical apparel and gear. As part of the "Tomorrow is Yours" brand relaunch, a new version of the "S" and a new logo font were designed by a group that included an internal design team, as well as two external teams—one led by former Salomon snowboard icon David Benedek and Ricardo Ferrol, a Swiss typographist; the other by Hugo Hoppman, a German creative director.
"This new visual identity is a great manifestation of our brand relaunch and true to our brand history and personality," said David Farcot, Creative Director for Salomon Snow Sports, who led the visual identity project. "The final design feels so natural and obvious that it may not be extremely noticeable to some people, but that is actually the best result the design team could hope for."
The new "S" monogram and "Salomon" logo appear on Salomon products starting this Fall/Winter 2022-23 season. Both were unveiled discretely in the exclusive Blue Fire Collection that launched in January 2022. Attentive fans might have noticed the design on Salomon skis and snowboards at the Beijing Winter Olympics.
The new logo is a subtle tribute to the brand history, but with contemporary updates. To begin the project, Salomon identified what it felt were its strongest heritage markers among several logo iterations from its 75-year history—a "homemade" version from the 1970s (as Salomon became a global brand) and another from 1996 by star designer Neville Brody as Salomon explored the "Freedom Action Sports" arena.
"Salomon had a very precise brief, so we took those two logos as inspiration," says Benedek, a Salomon Snowboard team rider for 18 years, who now runs creative consultancy in Munich. "The internal team did the most thorough baseline work I've ever seen. There was so much good strategy and analysis of various logo types and where they wanted to go, and that set up a narrow pathway for us which was very helpful."
Farcot credits members of all three teams for their willingness to put egos aside and, despite a very tight timeline, unite behind the opportunity to define this fundamental element of the Salomon brand identity.
"Hugo came up with the best draft version of the brandmark, and then David and Ricardo turned it into a perfectly finalized logo," Farcot said. "Then they created the 'S' monogram from this base, which Hugo used to create our new S/LAB logo and the Salomon Advanced signature."
The design experience was unique for Benedek due to his connection with Salomon and because he felt he was working with friends.
"It was emotional to connect to a time of my life as a snowboarder that was very important and unique," says Benedek. "Then, from a design standpoint, there is hardly a brand that I work with that I know so well. I have a good grasp on the core of the brand."
Farcot believes that the new brandmark is a manifestation of Salomon's design ethos—to be superior in function, with a very readable and recognizable sign; to be radical in design, with a very straightforward and simple aesthetic; and to be obsessive in style, with an extreme level of graphic refinement.
"David and Ricardo agonized over every radius, spacing, thickness and angle to make it absolutely perfect," Farcot says.
From Benedek's perspective, the final outcome is the result of a successful group effort.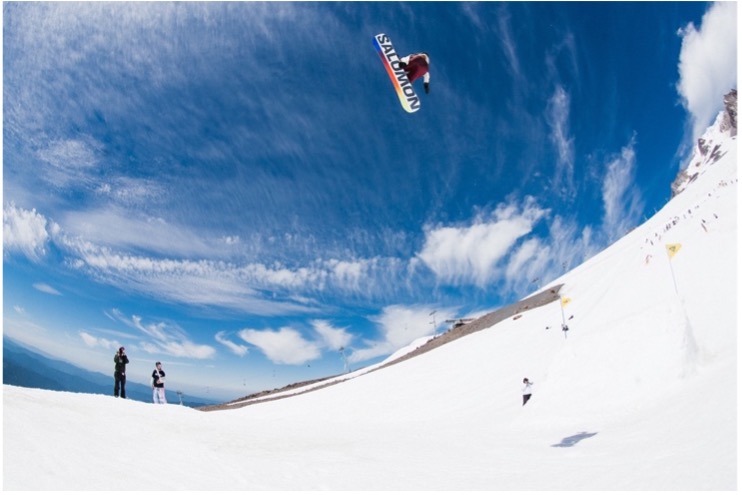 "I wouldn't say we melded the logos from the '70s and '96, but we fused the character of the S and the M and moved things to make a connection to what feels like the brand," says Benedek. "We wanted to modernize the logo with stable, contemporary design trends without running people away from the brand. It's almost an invisible re-brand in a way. It's authentic and I feel like it touches the character of Salomon."
Hoppman is thrilled to have played a part in writing another new chapter in Salomon's rich history.
"Drawing, concepting, tinkering on details, and closely collaborating with Ric, David and the rest of the amazing team has been a fantastic ride," Hoppman says. "I am deeply grateful for having been given the opportunity to make my mark on the future of Salomon."
About Salomon
Born in Annecy, French Alps in 1947,
Salomon creates premium footwear, apparel, gear and winter sports equipment
that is superior in function, radical in design and obsessive in style. At the Annecy Design Center, engineers, designers and athletes collaborate
to write the future of sports by creating products that transform outside sports experiences and enable a deeper connection with nature, allowing people
to unleash the best version of themselves so that they might positively impact the world.
Contact: Corinne Baud
corinne.baud@rygr.us
970-924-0704 ext: 2109