Boulder, CO, July 2020 – Industry innovators RovR unveiled a new product today perfect for enjoying time with friends and family in the outdoors. The KeepR is a sturdy and mobile cocktail and picnic caddy that makes entertaining in the outdoors easier, and will give outdoor enthusiasts even more ways to safely enjoy adventures of all shapes and sizes.
The KeepR makes setting up a socially-distant cocktail hour or a barbeque in your favorite outdoor setting easier than ever. Constructed with high-density foam, waterproof TPU, a rigid structure and moveable dividers that keeps wine, liquor, mixers, utensils and snacks snug and organized separately, the KeepR can separate wet and dry items while you're on the go, and the carrying handle with foam grip makes toting food and drinks a snap.
Centered in the KeepR, is a three-pound pound vacuum sealed ice bucket that keeps ice separated and fresh for cooling down beverages.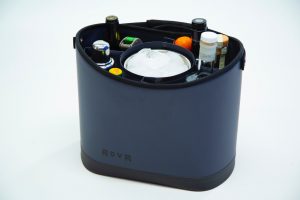 The KeepR also offers a molded base that grips surfaces and its waterproof design makes it easy to rinse clean.
The KeepR is now available online at rovrproducts.com and at select retailers nationwide locations, including retail giant REI.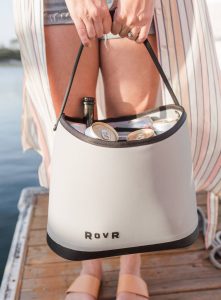 "The KeepR is not only a great mobile bar, it's the modern-day version of a picnic basket. There is no limit to how you can organize your goodies for a fun outing," said RovR founder and owner Tom DeFrancia. "Cups, utensils, plates, fruit and even cheese and crackers find a nice home, safe in separate compartments that are easily accessible. The KeepR carries like a pail and rests flat on surfaces, making it easy to serve from.
"RovR's mission is to innovate products that make gathering in the outdoors easier and more fun. Now, more than ever folks are turning to the outdoors to socialize safely and the KeepR is a great solution for that mobile happy hour."
About RovR Products: Founded in 2016 and based in Boulder, Colorado, RovR Products crafts premium coolers and accessories that transport gear from the car to the campsite as quickly and easily as possible. Offering the finest food storage performance available, RovR creates a new standard in the cooler market with all-terrain high-performance wheels and a list of accessories that set them apart from the crowd. Available in the standard or cyclist-friendly BikR, RovR coolers will go easily wherever your adventures take you. RovRProducts.com
Media Contact:
Meteorite PR | Eric Henderson| ehenderson@MeteoritePR.com | 307.690.2984