Charlotte, NC, March 25, 2020 – As COVID-19 continues to spread around the country closing stores and shutting shops, North Carolina based Recover Brands are showing up for small businesses with their #SupportLocal fundraiser. The fundraiser, that launched at the beginning of the week, invests $10 from every shirt sold into their small business partner fund. The funds then get distributed directly to their small business partners to provide immediate operating capital relief during these challenging times.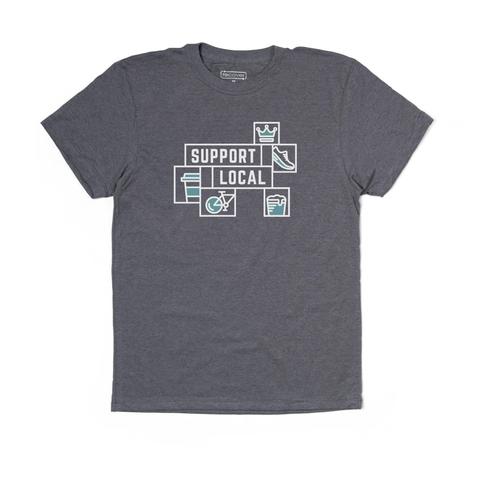 In just the first 24 hours, the shirt has raised $1,625 of the sustainable apparel brand's goal of $25,000. It is hoped that all money raised will help keep the local business community on its feet.
"The coronavirus affects us all; all industries, communities, and individuals in one way or another.  And the economic impact it has had on small business has been significant and immediate," explains Bill Johnston, founder of Recover, of their decision to launch. "The goal of this fundraiser is to rally our community to support small businesses during these challenging times. By purchasing this shirt, you know your money is going directly to small businesses to help keep the lights on."
Recover, who makes all their tees and apparel from recycled plastic bottles, have had success in this fundraising approach before. In November 2018 the brand raised $130,000 for Hurricane Florence Relief Efforts with their #CAREolinas Tee. And with their Protect Our Parks tee from 2017 – a fundraiser that began with Recover donating proceeds directly to the National Park Foundation for every Protect Our Parks original tee sold – the program has expanded and evolved into a wider initiative with ever-growing partnerships and impact.
For further details on their #SupportLocal fundraiser and to read about why small businesses need your immediate support, please visit: recoverbrands.com/supportlocal or reach out to Bill Johnston at bill@recoverbrands.com.