Miami, FL, January 16, 2020 — An Original Penguin® by Munsingwear®, the menswear brand renowned for combining American sportswear with heritage craftsmanship, announces the sponsorship of No Laying Up's Season 5 of Tourist Sauce and its industry-leading podcasts.
"As the voice of today's golf fan, No Laying Up produces some of golf's most influential and creative social media and digital content to a rapidly growing global fanbase," stated Oscar Feldenkreis, president and CEO of Perry Ellis International. "We are thrilled to partner with them for their upcoming Tourist Sauce series and podcasts as NLU's distinct and authentic voice aligns perfectly with the Original Penguin® brand and encompasses the lifestyle of what it means to be an original."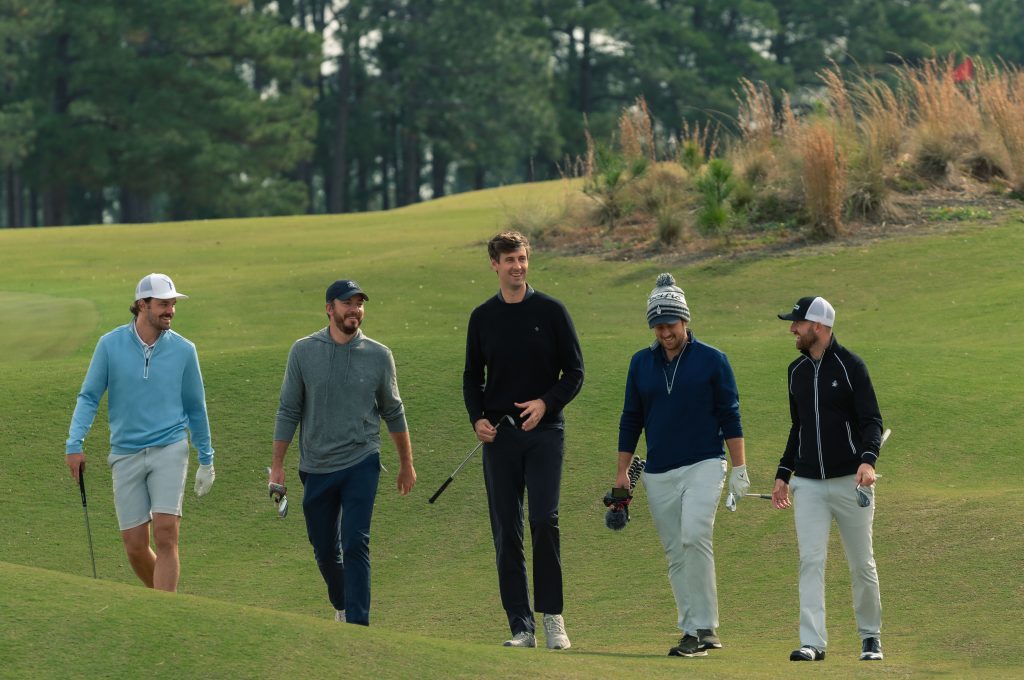 Worn throughout history by celebrated golfers, actors, and iconic celebrities, Original Penguin® had been adorned and adored by the masters of leisure and sport to define itself as an American classic. Still revered by the icons of today, the brand focuses directly on the golf market and combines many of the original styles, prints and patterns from the 50s, 60s and 70s, blending them with today's modern technical fabrications.
"We're thrilled to partner with Original Penguin® on the launch of their new golf line. The breadth and depth of the line allows all five of us to pick out our own unique style and flourishes, and in the smart, versatile fit that we expect on and off the course," added Tron Carter of No Laying Up. "In particular, we've been particularly impressed by the fit and fabric of the pants – and we're picky. From Neil's "party boy" patterns to Big Randy's confident, yet understated, aesthetic there's been something for each of us."
The No Laying Up Tourist Sauce Season 5 video series premieres January 28th and can be found at bit.ly/nolayingup.
About An Original Penguin by Munsingwear: In 1955, Minneapolis-based Munsingwear – underwear and military supply company – ironically became the touchstone of suburban sport with the introduction of the first iconic golf shirt to America – an ORIGINAL PENGUIN®. Known for its unique, humorous and detail-oriented clothing, Original Penguin offers a full range of men's and children's clothing, accessories and fragrances. Original Penguin is present in North, Central and South Americas, Europe as well as India and the Philippines. There are over 1,250 points of sale, more than 99 Original Penguin stores worldwide and two dedicated e-commerce websites originalpenguin.com and originalpenguin.co.uk
About Perry Ellis International: Perry Ellis International, Inc. is a leading designer, distributor and licensor of a broad line of high-quality men's and women's apparel, accessories and fragrances. The company's collection of dress and casual shirts, golf sportswear, sweaters, dress pants, casual pants and shorts, jeans wear, activewear, dresses and men's and women's swimwear is available through all major levels of retail distribution. The company, through its wholly-owned subsidiaries, owns a portfolio of nationally and internationally recognized brands, including Perry Ellis®, An Original Penguin by Munsingwear®, Laundry by Shelli Segal®, Rafaella®, Cubavera®, Ben Hogan®, Savane®, Grand Slam®, John Henry®, Manhattan®, Axist®, and Farah®. The company enhances its roster of brands by licensing trademarks from third parties, including Nike® for swimwear, and Callaway®, PGA TOUR® and Jack Nicklaus® for golf apparel. Additional information on the company is available at pery.com.
About No Laying Up: No Laying Up is a community of educated fans dedicated to discussing, playing, following and laughing about golf at all levels. Born as the solution to a simple complaint shared by four friends and avid golfers – that golf coverage and content were typically dull—No Laying Up's distinct and authentic voice resonates with a loyal and growing community. Above all, No Laying Up uses its resources to serve as the voice of the golf fan.
For more information, contact:
Stuart Goldstein
RG Narrative Inc.
(W) 212-863-4109
(M) 201-681-0618
stuart@rgnarrative.com
Jeremy Gerson
VP Sports Marketing
Perry Ellis International
305-873-1325
jeremy.gerson@pery.com