Origin, an award-winning outdoor sport and tourism-focused creative, content and strategic marketing agency founded in Whistler, Canada, announced today the hire of Ben Hewitt as a senior writer. Ben joins Account Director and Strategist Laura Merino as the second U.S.-based Origin employee after Origin established a U.S. subsidiary in April.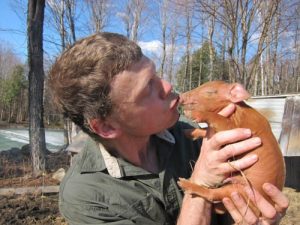 "We didn't really go out looking to add another full-time writer to our team roster, but then we met Ben," said Danielle Kristmanson, partner at Origin. "He is a rare mix of a strategic thinker and creative writer, and we love that in a guy. In addition to his mastery of language, he's thoughtful, funny and prolific in his writing. He's a true outdoorsman, and he's also a farmer—and that's just freakin' cool."
Hewitt has authored six books and served as contributing editor to numerous national periodicals including Powder, SKIING, and Men's Journal. Hewitt was born, bred and currently resides in the hills of rural Stannard, Vermont. He brings to Origin a deep appreciation for language, the outdoors and all those who inhabit it.
"What I most appreciate about Origin is an unwavering commitment to always push and evolve the creative boundaries, along with the opportunity to align my work with the pursuits that have formed the core of my being for nearly as long as I've been alive," said Hewitt.
Hewitt's expertise will benefit Origin's growing client list, which includes clients L.L.Bean, Squaw Valley, Taos Ski Valley, Park City Resort, Breckenridge Resort, Jay Peak Resort, and Whistler Blackcomb, among others.
Origin's niche provides a deep and rare understanding of the outdoor sport and tourism industries and what makes their consumers tick. "Our mission is to inspire people to get outside," said MJ Legault, partner at Origin. "It's pretty simple. Establishing a more formal presence in the U.S. lets us do more of what we love—bringing results-driven projects and campaigns to outdoor brands. We're thrilled to have Ben on board to help deliver on our mission.

About Origin: Origin is an outdoor-focused, digitally-driven creative, content and marketing agency. Founded more than 20 years ago, the agency has worked with a multitude of prominent outdoor brands such as Whistler Blackcomb, L.L.Bean, lululemon, Smartwool, The North Face, and many more. With offices in both Montreal and Whistler, Origin provides a bilingual suite of capabilities to the outdoor brands it helps succeed and grow in both Canada and the U.S. For more information about Origin, please visit originoutside.com