Whistler, B.C., November 4, 2019— Award-winning outdoor marketing and content agency Origin and Mike Wiegele Helicopter Skiing today released the trailer for Call Me Crazy. The short film—set for release on December 9 at  wiegele.com/CallMeCrazy—captures the life story of heli-ski guide and innovator Mike Wiegele of B.C.-based Mike Wiegele Helicopter Skiing, now celebrating its 50th anniversary. Call Me Crazy has been accepted into the Whistler Film Festival and the Rossland Film Festival as well as nominated for Best Storytelling at iF3 Montreal.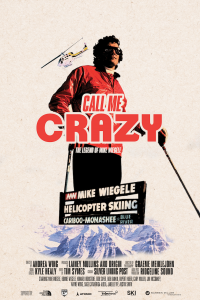 Wiegele, a self-described "ski-obsessed Austrian," became one of the most influential ski pioneers in Canada and is the founder of North America's preeminent heli-skiing operation. Weigele was called crazy his entire life— his pioneering vision and relentless determination gave others reason to do so. Despite the doubt and disbelief, he didn't give up on the future he wanted and a future no one else could imagine.
"The making of this film made me realize how far we have come," said Founder, Owner and Guide Mike Wiegele. "There's no better recognition than to have your life captured on film."
Mike's commitment to his vision has enabled ski enthusiasts and die-hard powder-hounds to access some of the most sought-after snow in the world. Beyond his heli-skiing vision, Wiegele has also set the standard for avalanche safety in the industry, influenced groundbreaking changes in ski technology, and continues to inspire future generations of skiers, snowboarders and guides. His story is far from over.
"We knew that Origin would capture the uniqueness and character of Mike's story," said Mike Wiegele Helicopter Skiing Marketing Coordinator Deanna Kristensen. "Throughout the production process, our team felt that Andrea Wing, Graeme Meiklejohn and the production crew connected with Mike and his passion for skiing. It has been a pleasure to work with Origin on this film, and we now look forward to sharing his story with new audiences from around the world."
Call Me Crazy boasts a crew including Director Andrea Wing, Producer Lainey Mullins, Director of Photography Graeme Meiklejohn and Editor Tim Symes. The cast includes Mike Wiegele, Bonnie Wiegele, Howard Ironstone, Cary Mullen, Jim McConkey, Bob Sayer, Bon Rankin, Rupert Huber and Wayne Wong as well as athletes Sage Cattabriga-Alosa, Janelle Yip and Austin Smith. Partners include The North Face, Hestra, Atomic, Yellowhead Helicopter, SKI Magazine and Warren Miller Entertainment.
Learn more about the film, watch the trailer today and check out the full-length film beginning December 9 at wiegele.com/CallMeCrazy.
About Mike Wiegele: Mike grew up in Lading Kärnten, Austria, where he developed his passion for skiing and racing. Inspired by his love for skiing, he moved to Canada in 1958. His dream of opening a heli-skiing operation was sparked after spending several winters working at Sugar Bowl, California and in Banff, Alberta, where he obtained his Canadian Ski Instruction Association Level 4 certification and went on to coach several national ski team members including Ken Read, Jim Read, Chris Kent, Bobby Allison, Cary Mullen, Mike Irwin, and Bill Irwin. In 1970, he started his heli-skiing operation out of Valemount, B.C. and in 1974 he moved the operation to Blue River. In the late 1980s, he started the Canadian Ski Guide Association, which has since trained and certified hundreds of ski guides for the ski industry. In 1990, he received the Bravery Award from the Governor-General of Canada for rescuing his wife from a helicopter accident. He also received the Marshall Award for Excellence from the Canada West Ski Areas Association for his outstanding contributions to the industry. Mike has been inducted into the Canadian Ski Hall of Fame, Canadian Rockies Ski Racing Hall of Fame, and the Banff Sports Hall of Fame. In 2019, he received an Honorary Doctor of Laws degree from Thompson Rivers University in Kamloops.

About Origin: Origin is an outdoor-focused, digitally-driven creative, content and marketing agency. Founded more than 20 years ago, the agency has worked with a multitude of prominent outdoor brands such as Whistler Blackcomb, L.L.Bean, Lululemon, Smartwool, The North Face, and many more. With offices in both Montreal and Whistler, as well as a Vermont-based US subsidiary, Origin provides a bilingual and suite of capabilities to the outdoor brands it helps succeed and grow in both Canada and the US. For more information about Origin, please visit originoutside.com.