Mystery Ranch, the industry-leading pack company built on a heritage of comfortable load carriage, function and durability for people who have a mission to accomplish, begins to unveil a new film series, "Parallel Passions," with the release of the "Facets" teaser. The in-house Still Crazy Production, focused on backcountry skiing in Alaska, is the first look at a new film series that shares the brand's passion for designing load-bearing equipment and for putting that equipment to use in the mountains. The Parallel Passions films will tell parallel stories of Mystery Ranch's design process and stories of our ambassadors in the field.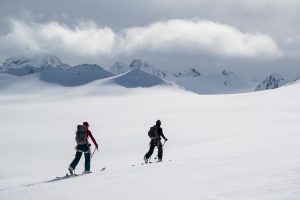 Photo Credit: Jay Beyer
"You could say it's been a passion project," jests Ryan Holm, marketing director for Mystery Ranch. "The culture of pack builders is the focus in the film series, and each film shares aspects of our design process that parallel the storyline and the brand's major product categories including Outdoor, Hunting, Military, and Fire. Our brand ambassadors take a leading role in sharing their passion for their craft and their appreciation for ours in pack building."
Today, Mystery Ranch is building to stoke for the winter ski season with the release of "Facets." Ambassadors Carston Oliver and Eric Balken, as well as the brand's Sales Manager Ben Nobel, embark on a ski trip to Alaska to test out the newly redesigned ski packs. Upon arrival, they confront a few days of bad weather, only to come out on the other side to an unstable snowpack. Sticking to safer aspects and elevations, the crew perhaps still pushes it too far and is left with questions about risks and rewards in the backcountry. The full-length film will premiere at Outdoor Retailer at the brand's 20th Anniversary celebration and then shared with the public on Friday, January 31, 2020.
The second film in the series, "The Process" will premiere at Bozeman Ice Festival on December 12th of this year. "THE PROCESS" tells the creation story of the Scepter Ice Climbing pack and the relationship between the Ranch's Designers and Ambassadors. In the film, Mystery Ranch's passion for climbing and design is woven together, letting the viewer join in the process of pack design, building, and testing to create a product from an alpine level environment of the Hyalite Canyon.
Alex Kutches, VP of Sales and Marketing, continues, "The goal of the new films is to bring our customers closer to the brand, our culture and our Built For The Mission motto. As we celebrate our 20th year as a brand, these films authentically convey our passion for what we do as pack builders and shine a light on the contributions our Ambassador Team has in the process."
To learn more about our mission to design the best load-bearing equipment and the insatiable hunger for user feedback from the field, watch the trailer here.