Lake Wanaka, New Zealand, April 23, 2020 —Mons Royale, New Zealand-based merino apparel company, this week launched its Support Your Local Retailer initiative to provide additional funding to its retail partners in light of the negative economic effects COVID-19. Customers can dedicate 25% of their purchases online at monsroyale.com to a local Mons Royale retailer of their choice through May 15, 2020.
"Over the last 10 years, specialty retail has been an integral part of the Mons story," said Mons Royale Founder Hamish Acland. "They've backed us, made us part of mountain town lifestyles around the world and helped Mons Royale become the brand we are. Today, we've got their back. Those same retailers are facing their biggest challenge yet. They are the lifeblood of mountain town lifestyles, and without them, our lives in the mountains would be vastly different."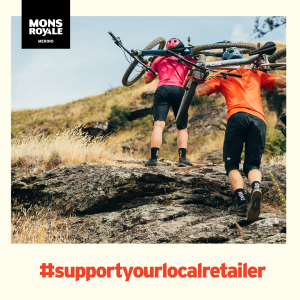 Roughly 120 North American and 800 global retailers carry Mons Royale. With unemployment numbers rising daily, stay-at-home orders, closures and cancellations, every retailer is facing unprecedented and devastating consequences.
Consumers have the option to support their local Mons Royale retailer at checkout on monsroyale.com. Mons Royale will give the retailer 25% of the total value of the sale, excluding freight. After May 15, all sales tagged to a retailer will be totaled and Mons Royale will give the proceeds to the retailer as a credit on their account, which can be used against current and future orders.
#SupportYourLocalRetailer