Lowa has entered the trail running category with its All Terrain Running (ATR) collection.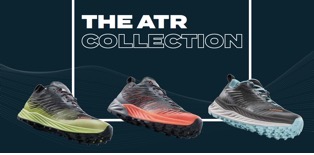 Officially launched at Switchback at The Running Event in Austin, TX, the line offers three silhouettes: Citux, designed for competitive fast trail running; Amplux, for runners that want to go further and faster; and Fortux, for long-distance runs. The collection will be sold at specialty retailers starting June 2023.
"ATR is our answer to the growing trend of trail running that is continuing to increase steadily around the world," said Peter Sachs, general manager. "Every design feature was carefully considered resulting in a shoe that not only embodies our performance heritage but also honors our design prowess from experts that participate in the sport. In addition, this line enables Lowa to introduce younger consumers to the brand who are looking for fresh options that meet their unique needs."
Key technologies include:
Lowa's proprietary Trac Sole system (a sticky rubber compound with traction in wet or dry conditions); 

carbon reinforced rebound plate (a reinforced plate under the forefoot, giving runners energy return and protection from sharp objects or uneven trails); 

heel stabilizer (an anatomically shaped, molded heel counter "guaranteed" to stabilize function in all directions; 

Lowa's Dyvena (a polymer compound with cushioning that absorbs the forces during heel strike; and 

anatomical ankle lines (supported through an asymmetrically shaped upper edge that "precisely reflects" the ankle's anatomy.
Citux, for men and women, is a lightweight shoe with dual-density Dyneva high rebound cushioning, carbon-reinforced rebound plate, full-length EVA shell, proprietary Lowa Trac speed sticky rubber outsoles, and 4mm heel drop.
Amplux, for men and women, for the everyday trail runner, offers a 6mm heel drop with full-length triple density Dyneva high rebound cushioning midsole, carbon-reinforced rebound plate, a fore-midfoot EVA midsole shell, a rearfoot EVA midsole shell, and Lowa's Trac agility sticky rubber outsole. The padding in the collar and heel balances comfort and agility, enabling the user to get the most out of their experience. The shoe comes in three colors.
Fortux, for men and women, is for long-distance runners, with a 6mm heel drop, rocker-shaped high-rebound Dyneva cushioning and Lowa's Trac ultra sticky rubber outsole. The one-piece shaft prevents pressure points. It comes in three colors.
For more product information, go here.
Photo courtesy Lowa