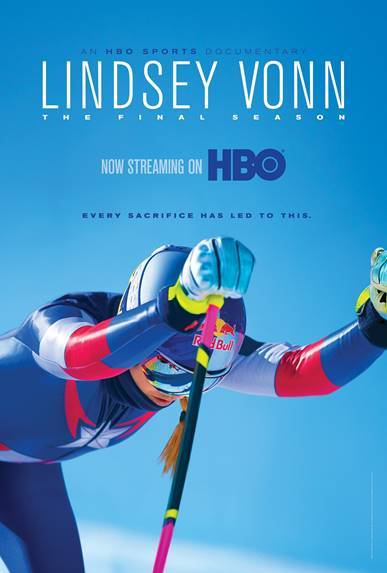 Jackson, WY, April 2020 – Teton Gravity Research (TGR), the global leader in action and adventure lifestyle media, announced this week that its documentary collaboration with HBO,  Lindsey Vonn: The Final Season, has been nominated for two sports Emmy Awards. The nominations are the latest accolades for the film, which debuted In November 2019 and profiled the final, gut-wrenching season for the most decorated female alpine skier of all time.
The film is nominated for both Outstanding Sports Promotional Announcement and Outstanding Camera Work. TGR embedded one of its elite camera crews with Vonn and the U.S. Ski Team throughout the winter of 2018-19 to capture rare and intimate footage of Vonn, who retired after winning a bronze medal in women's downhill at the 2019 World Championships in Sweden. The film also documents her rise from child prodigy to a four-time Olympic gold medalist.
"We're thrilled that Lindsey Vonn: The Final Season has received the attention it has, and two Sports Emmy Nominations are a credit to the entire TGR crew that worked on this film in collaboration with HBO," said directors Steve and Todd Jones.
"Lindsey and her team gave us unprecedented access because they trusted and respected our crew, and the feeling was mutual throughout the production of the film. The film reveals Lindsey's sacrifice as well as her unrivaled commitment to success, and we were thankful to play a role in telling the story of her last year on the mountain."
Lindsey Vonn: The Final Season is currently available to watch on HBO on Demand, HBO NOW, HBO GO and partners' streaming platforms. Emmy Award winners will be announced later this year.
The film drew rave reviews for its raw and intimate footage of Vonn during both competition and recovery, including the work done by Abbe Brown, Vonn's longtime friend who captured scenes of Vonn's private life that had never been before. Veteran TGR cinematographer and producer Jill Garreffi served as the field producer and assistant editor for the film, while Drew Holt served as producer. Nick Kalisz served as the cinematographer, and the film was edited by Rose Corr and Justin Fann.
"I think as I'm finishing my career there was a lot about me that I haven't shared and wanted to be part of my legacy," Vonn said of the film. "It was important for me to be authentic and myself and share my story in a real way. I'm really proud of what HBO and TGR (Teton Gravity Research) were able to put together."
About Teton Gravity: Teton Gravity Research is regarded as one of the premier outdoor action, adventure, and exploration brands in the world. Known for original, custom and branded content. TGR's world-class storytelling has captivated audiences for more than 23 years. With 40+  award-winning films, numerous television series, and national commercial spots TGR delivers a global, multi-channel footprint. Teton Gravity Research is one of the fastest-growing outdoor media brands with a thriving millennial audience, award-winning multimedia film projects, a rapidly growing experiential platform and unprecedented viral content. TGR is a proud member of the Surfrider Foundation, 1% For The Planet, BICEP, IMBA, and Protect Our Winters. For more information on TGR, visit TetonGravity.com. 
Media Contact:
Meteorite PR | Eric Henderson | ehenderson@MeteoritePR.com | 307.690.2984