Flagstaff, Ariz. (Nov. 7, 2023) – Kahtoola, creator of award-winning footwear traction and performance-driven gaiters, has undertaken an overhaul of their ultra-low profile footwear traction, Nanospikes. Nanospikes have been a winter safety essential in icy conditions for nearly a decade for everything from training for a marathon to walking the dog, and the newly updated version is now available at retailers nationwide. Unintentional falls are the leading cause of nonfatal emergency room visits across all ages of Americans per the CDC.[1]
Specifically designed for walking and running on slick roads and sidewalks in freezing temperatures, Nanospikes traction delivers high-performance grip on hard, icy surfaces without affecting foot strike. The updated version for fall '23 offers improved comfort, fit and traction to stay safely active outside in wintry conditions. Also great for holiday travel, Nanospikes traction packs down small into an included tote pouch and easily slide over a variety of shoes to help travelers avoid dangerous slip and fall accidents while exploring new destinations.
Product updates include an improved fit for a wide variety of shoe styles and sizes from US W 5 to US M 15 plus a larger heel tab for an easy on and off experience. Low profile rivet connections minimize pressure points for improved comfort. Ten concave tungsten carbide spikes per foot provide instant traction on ice and an updated traction plate deflects uneven ice, allowing spikes to engage faster. Unisex sizing.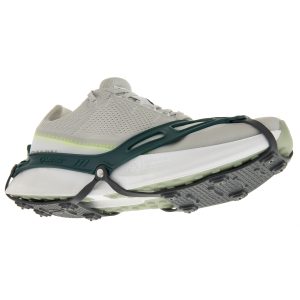 "We believe design is more than the means to a new product," said Danny Giovale, founder and owner of Kahtoola. "It's a practice in intentionality and purpose. Based on the feedback from our community, customers and athletes, we identified an opportunity to make a good thing even better. The redesigned Nanospikes bring a number of thoughtful improvements and they continue to be the proven ultra-low profile traction that runners trust when they need to perform on hard, slippery surfaces, without affecting their gait or foot strike."
For more information on Kahtoola's complete range of traction and gaiter offerings, please visit Kahtoola.com.
[1] United States. Centers for Disease Control. (2021). WISQARS Leading Causes of Nonfatal Injury. Retrieved from CDC Web site: https://wisqars.cdc.gov/lcnf/