Flagstaff, AZ, June 18, 2020 – Kahtoola, creator of award-winning MICROspikes® and NANOspikes® footwear traction, is proud to announce that its "Kahtoola for the People" grant program has awarded $62,500 in the first half of 2020 including Esperanca, HERO, The Tibet Fund, One New Education,  Elevate Nepal and the Havasupai Tribe. The next round of grant applications will be reviewed in September and nonprofits are encouraged to apply by September 1, 2020 at Kahtoola.com.
"Kahtoola's mission involves making a difference in people's lives, empowering and supporting the good work of others and positive, inclusive characteristics that reflect the good in all of us," said Danny Giovale, founder of Kahtoola. "Every year since 1999, we have been proud to grant a percentage of our annual sales to fund projects that support indigenous cultures, investing in community improvements, healthcare, education, resources and the environment. We are thankful for the opportunity to continue supporting the important work of our grant recipients, especially given the current global health crisis."
The first $10,000 grant of 2020 was awarded to Esperanca to assist with projects that improve nutrition and food security within the rural Peruvian communities of the Q'eros Nation in the Province of Paucartambo. Esperanca will focus their grant funds on this region of the Andes to connect with 128 indigenous families in six villages. Outreach will promote seed selection and conservation, followed by the planting of 128 family gardens with organic Andean crops, such as beans, tarwi, maize and potatoes.
A second $10,000 grant was awarded to Arizona-based, HERO for medical equipment, including menstrual kits, a new ultrasound machine, portable EKG machine, and cervical cancer screening supplies for the Namo Buddha and Hatiya areas of Nepal.
The third $10,000 grant went to The Tibet Fund on behalf of Nyingtob Ling, a Tibetan School for Disabled Children and Young Adults. Grant funding will be used for the improvement of caretakers' living facilities at the school damaged in part by monsoon rains.
Two additional nonprofits received "Kahtoola for the People" grants in the first half of 2020. One New Education was awarded $2,500 to cover school expenses for three girls in the town of Dhulikhel, about 30 km east of Kathmandu, Nepal. Elevate Nepal received a total of $5,000 to support its mission to provide the Nepalese people access to resources for the responsible development of a sustainable community including a project with the Ananda Jyoti Agriculture School in the community of Begnas Tal, Nepal. The school strives to educate young people about the importance of sustainable, organic agriculture.
And finally, Kahtoola's virtual run raised more than $25,000 for the Havasupai Tribe's COVID-19 relief fund. 258 participants from 23 states, along with 624 donors, helped Kahtoola surpass its original fundraising goal of $10,000.
For more information on Kahtoola for the People grants or to submit an application, please visit Kahtoola's website.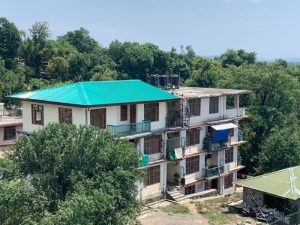 About Kahtoola: Since 1999, Kahtoola has been creating reliable gear that makes the outdoors more accessible and rewarding. Kahtoola's flexible footwear traction systems, including MICROspikes® and NANOspikes® footwear traction, are built to improve safety and performance in wintry locales around the globe. Every product from hiking crampons to running gaiters are thoughtfully designed and vigorously tested at the brand's Flagstaff, AZ headquarters high on the Colorado Plateau. Owned and operated by founder Danny Giovale, Kahtoola proudly grants 1% of annual sales to fund projects that support indigenous cultures, investing in community improvements, healthcare, education, resources and the environment. For more information, please visit Kahtoola.com.