Katy, TX, August 18, 2020 – Today, Igloo Coolers and the Surfrider Foundation, a leading nonprofit organization dedicated to the protection and enjoyment of the ocean, waves and beaches, announced the launch of the limited-edition 'Surfrider Foundation x Igloo' Playmate Cooler. Available online, proceeds from the collaboration will support the protection of the ocean and coasts for all people, today and for the future.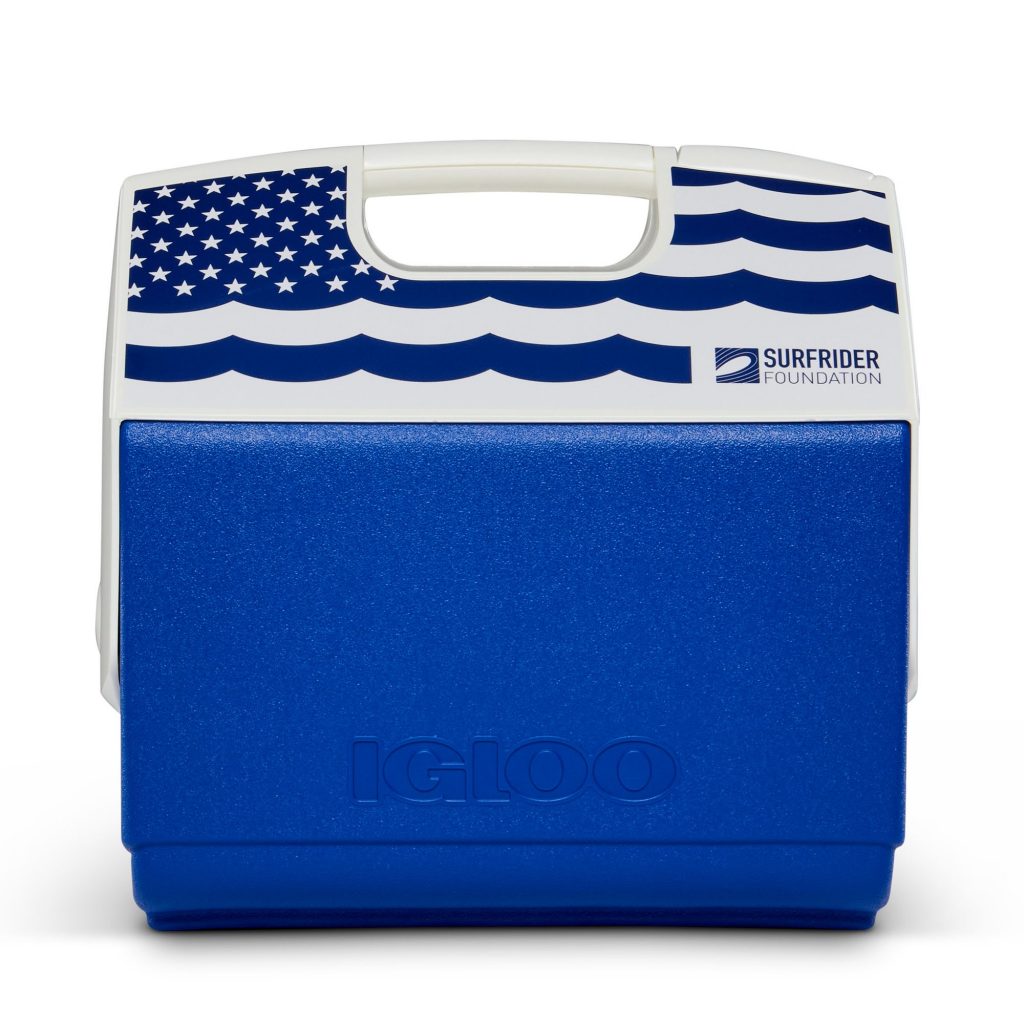 Igloo's Chief Marketing Officer, Brian Garofalow states, "Over the last few years, Igloo has made a commitment to produce more eco-friendly products like RECOOL, the world's first biodegradable cooler, and as we further our work to help protect the environment, we're excited to team up with the Surfrider Foundation. We are inspired by Surfrider's powerful activism and honored to play a part in their efforts through this collaboration."
The Surfrider Foundation x Igloo Playmate Elite — featuring Surfrider's iconic United States and Oceans of America wave flag design — represents the responsibility we all share to ensure the places where we surf, swim, play and live are protected and accessible for everyone.
"Foam is one of the most commonly found plastic pollution items found on beaches across the globe, and in many cases the pieces are so small they are almost impossible to clean up. That is one reason that Surfrider advocates for eliminating single-use plastics, especially foam, at the source. IGLOO is doing just that all across their product lines and that is why we are so proud to be partnering with Igloo coolers," says Surfrider Foundation CEO Dr. Chad Nelsen. "From the biodegradable RECOOL that replaces the fragile foam cooler, to greening their production materials, to their durable Playmate cooler, IGLOO is providing products that will help keep our ocean, waves and beaches plastic free."
In an ongoing effort to do more while using less, Igloo is committed to offering environmentally sensitive products that are designed and inspired to consciously lighten one's carbon footprint. With less harmful emissions, less carbon footprints and less limitations, Igloo has its sights set on redefining fun with a variety of cooler needs that span recyclable options to permanent solutions that could be passed down and shared for generations.
To view the limited edition 'Surfrider Foundation x Igloo Playmate' cooler, visit igloocoolers.com/surfrider. Find out more and get involved at Surfrider.org and follow along @Surfrider.
About Igloo: Born from a modest metalworking shop back in 1947, Igloo has been instrumental in redefining how we live, work and play. What began with bringing clean water to the worksite quickly moved into super-functional, best-in-class ice chests. Igloo products made the family outdoor recreation movement of the 20th century possible. Suddenly, taking your kids camping on the weekend became easy and cross-country road trips became a summer vacation staple.
As we approach our next century, Igloo is 1,200 employees strong. We are proud to call—a 1.8 million-square-foot, three-building facility in—Katy, Texas home. With more than 500 products sold at thousands of retailers around the globe, we can confidently call ourselves the number one cooler manufacturer in the world.
And through it all we haven't lost sight of our original goal—to create products that enable the pursuit of happiness (however you define it). That's why we're still working hard every day to innovate, create and make it easier for you to get out, work hard and play even harder.
Igloo Media Contact – michael@masterplancommunications.com
About the Surfrider Foundation: The Surfrider Foundation is a nonprofit grassroots organization dedicated to the protection and enjoyment of our world's ocean, waves and beaches, for all people, through a powerful activist network. Founded in 1984 by a handful of visionary surfers in Malibu, California, the Surfrider Foundation now maintains over one million supporters, activists and members, with more than 170 volunteer-led chapters and student clubs in the U.S., and more than 700 victories protecting our coasts. Learn more at surfrider.org.
Surfrider Media Contact – media@surfrider.org