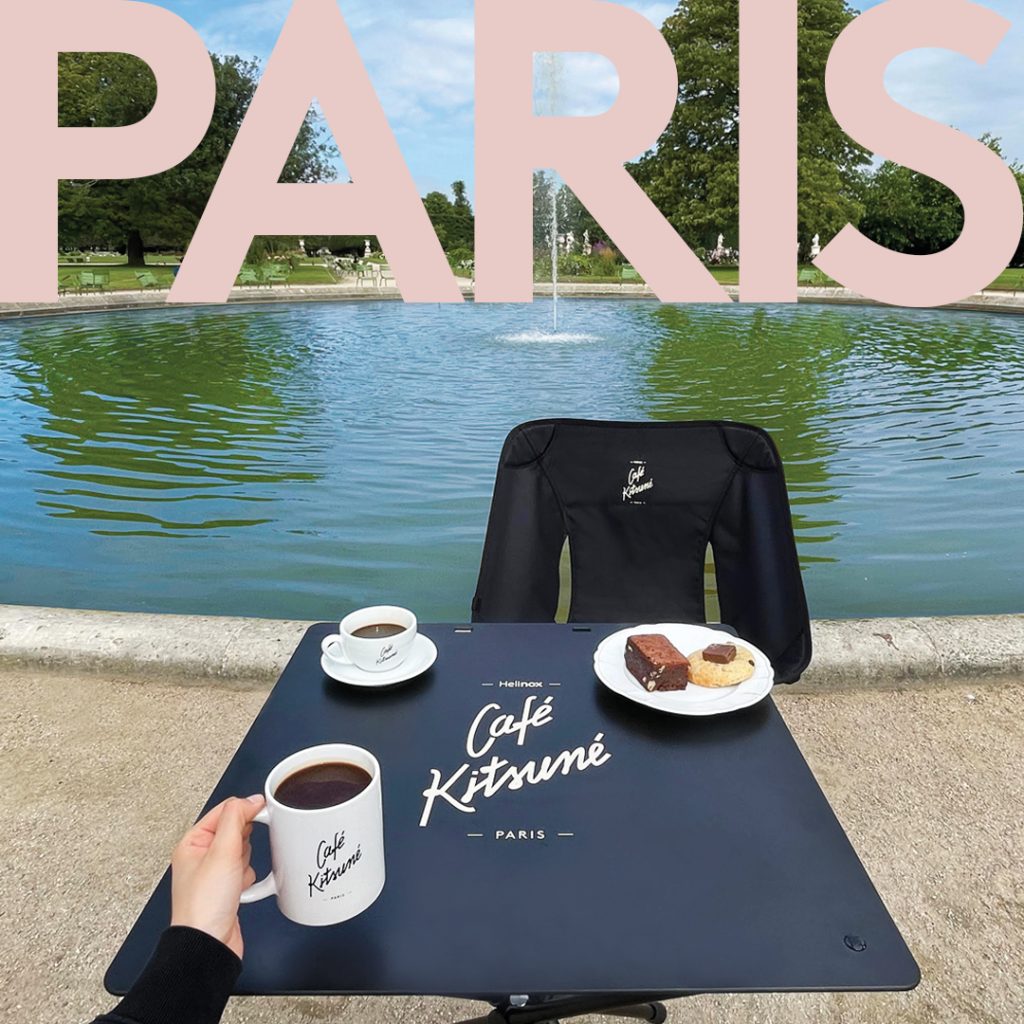 Helinox and Café Kitsuné created a Café Chair and Table with a Café Kitsuné Paris signature logo for Spring 2022. The table and chair offer consumers a Café anywhere experience that is lightweight and easy to set up.
"We're excited to partner with Café Kitsuné and offer a sneak peek of what we've been developing for 2022. The new Café Table and Café Chair add yet another option for people to enjoy the outdoors by creating their own café scene anywhere they choose," said Azul Couzens, VP, sales and marketing, Helinox USA. 
The Café Chair offers the comfort and shape of Helinox's Chair One but is higher off the ground and with a more upright sitting posture. To support the taller height, the chair has stronger hubs, a wider base and larger diameter alloy legs. The seat height slides under a standard 28-inch table and is designed to complement the Café Table. The Chair will accommodate up to 320 pounds and is made with DAC alloy and 600 denier polyester. 
The Café Table is a new design to compliment the Café Chair. It offers a high-pressure laminate top for a smooth surface that easily wipes clean and can withstand temperatures of up to 356-degrees F (180 degrees C) for short periods or 212 F (100 C) for up to eight hours. The shock-corded, DAC aluminum legs assemble quickly and snap directly into the tabletop for transport, with the table carried by a removable handle that snaps into place. The hub allows the legs to rotate independently when opened or closed.  
The Café Chair and Table are available at Café Kitsuné locations in Paris, New York City, Tokyo, Beijing and Shanghai and online. The Café Chair and Table will be available in Spring 2022 at Helinox and specialty retailers.
Earlier this summer, Helinox x Maison Kitsuné introduced the Chillax Fox Heart of Summer collection, including the Chair One, Table One Hard Top, Cot One Convertible, and the Royal Box Shade structure in honeycombed seersucker fabric. 
Photo courtesy Helinox x Maison Kitsuné