Goat BoxCo is launching its Goat Cooler System for people who go at life. The system offers customizable storage and organization in a fully integrated, modular design.
"If 2020 has taught us anything, it's that life is unpredictable," said Goat BoxCo's Founder Jack Robbins. "Our mission at Goat is to equip people everywhere with the smart tools and essentials they need to live ready because when you're prepared, you can confidently tackle whatever life throws your way. We're proud to launch our brand with this revolutionary product system that redefines how our adventure-driven consumers approach functional, intuitive gear storage and empower them to live fully committed to the moment."
The Goat Cooler System's modular product and storage design consists of four key innovations. At the center, the Goat HUB 70 cooler is constructed with heavy-duty rotomolding and featuring four integrated turrets that secure the system's interchangeable Goat Cans. Each compartment offers storage for tools, food and essential gear that can be easily removed, replaced and kept well-organized in the Goat Rack when not in use.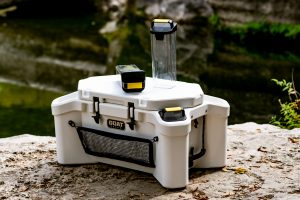 For added convenience, Goat also offers a suite of customized gear kits to stash easily within the Goat Cans which load into the HUB 70 performance cooler for any adventure or emergency.
Initially, Goat partnered with more than twenty industry brands, including MyMedic, ReadyWise, Katadyn, HydraPak, UCO, Havalon, NOCO, Argali, Dizzy Pig, and Sea to Summit. Additional kits and partner brands are in the works and will be announced soon.
"Goat is not just another cooler brand," Robbins noted. "Our team has devoted extensive research in the thoughtful design of this multifaceted system to disrupt the space and reinvent the functionality of coolers in a whole new way. We're thrilled to team up with the best brands in the industry and are grateful for the work of our extremely talented crew in launching the Goat brand." 
For more information on the individual components of the GOAT Cooler System, go here.