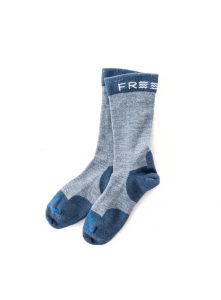 FITS®, American manufacturers of the best-fitting socks on the market, is excited to announce a new partnership with fellow Charleston-based outdoor brand, Free Fly. The two companies have combined forces to launch a new limited-edition sock that will be released on Tuesday, October 15th.
Inspired by the ocean, the FITS® x Free Fly collaboration sock is perfect for fall fishing, hiking, biking, or putting on after a cold-water surf session. The style also doubles as the ideal sock to wear when traveling, hitting up fall oyster roasts, Lowcountry boils or football tailgates.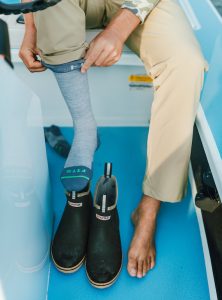 "As two outdoor brands based in Charleston, SC, combining forces with Free Fly felt like a natural partnership for us," says FITS® Managing Partner, Matt Alexander. "It was super fun to develop a performance sock that outdoor adventurers can wear while chasing down a little fun as temperatures start to cool down."
"We've been huge fans of FITS for a long time," says Free Fly Founder Tanner Sutton. "Combining their world-class technology with our coastal color story felt like a natural fit."
The FITS® x Free Fly sock has extra cushioning in the heel, toe, and arch for maximized comfort and support. Made in the USA, the Merino wool style wicks away moisture, ensuring that feet stay dry and comfortable for all-day fun.  The FITS® x Free Fly sock will be available for $21.99 on freeflyapparel.com beginning Tuesday, October 15th.
About FITS: FITS® is a premium sock brand resulting from the collaboration of third and fourth generation textile manufacturers to create the absolute best fitting socks in the marketplace. Utilizing only the best raw materials available, FITS® incorporates innovative, proprietary engineering and technology to create the most comfortable,
best-fitting sock in the world. FITS® is driven to create value for both their retail partners and consumers by delivering a superior product at a fair price that enhances personal experiences in the outdoors, at the office, or simply relaxing with friends and family. Contact FITS® at (888)421-3487 or at fitssock.com.
About Free Fly Apparel: Free Fly Apparel started with a love for the outdoors, a guide permit tucked in our pack, and a heavy-weighted fishing shirt stuck to our back. The question we always asked while on the water is, "Why isn't there a more comfortable performance shirt?" Since it didn't exist, we decided to create it. Our solution? Bamboo. Together, we quit our jobs and created a brand built around natural comfort designed for the adventurous outdoor lifestyle. A family-owned brand founded in Charleston, SC with a dream with sleeves: to allow people to experience life more freely, simply, and comfortably. Learn more about their game-changing technical and lifestyle products by visiting freeflyapparel.com