The next logical step for Enduro Bearing's Maxhit technology is the introduction of its Maxhit bottom brackets. The brand's patent-pending Maxhit bearing technology addresses weaknesses the company found in standard bottom bracket components that use several parts within parts, including small ball bearings that succumb to wear and corrosion.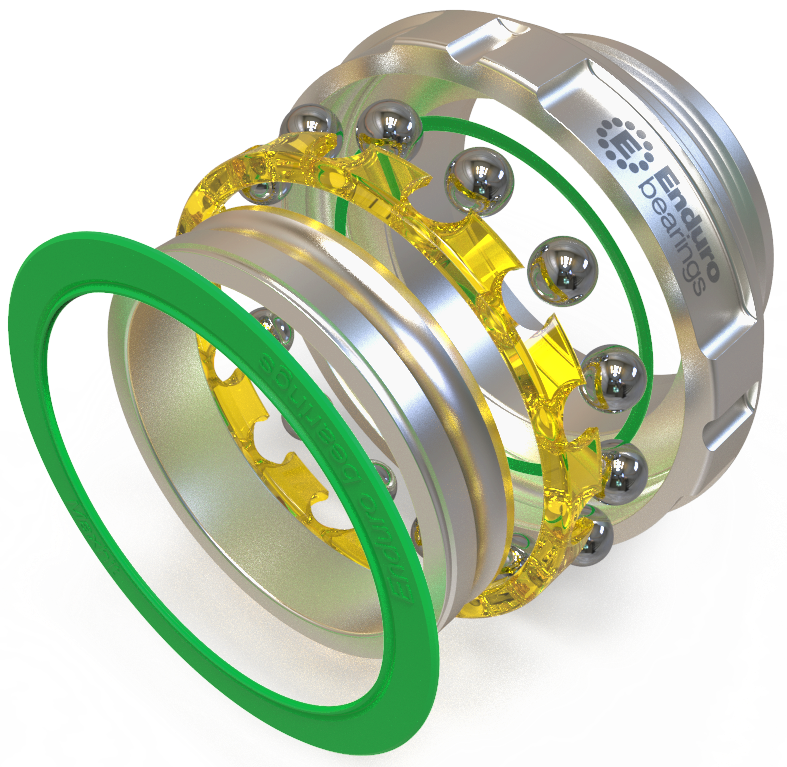 Bottom brackets "endure profound and intense forces transmitted through the crank spindle. To better absorb these forces, Enduro's Maxhit's design eliminates the aluminum bearing cups and increases the size of the 440C stainless-steel outer bearing race to become the BB shell interface. This patent-pending device allows for much larger balls nested in deeper bearing race grooves, providing more surface area."
Compared to industry standards, "Maxhit BB bearing balls can have up to eight times the mass and a larger bearing-race contact area to withstand more than double the force load, leading to increases in durability and performance."
An added benefit of the larger balls found in Maxhit BB bearings is the ease of installation. And the increased bearing contact area can withstand greater axial (side) load.
After months of Maxhit machine testing, "Enduro documented a significant advantage in wattage savings compared to a range of leading brands also being tested. Tested at over one million test cycles, the Maxhit bottom bracket has shown no signs of wear, while many other premium brand BBs have shown significant wear after a small fraction of that test duration."
Maxhit components include a lifetime guarantee against wear and corrosion.
"We knew Maxhit technology would be perfect for areas of high load on a bike," said Matt Harvey, president and founder, Enduro Bearings. "The headset was first because there are not as many standards, but we recognized Maxhit would be a game-changer for bottom brackets as well."
For more product information, go here. 
Photo courtesy Enduro Bearing