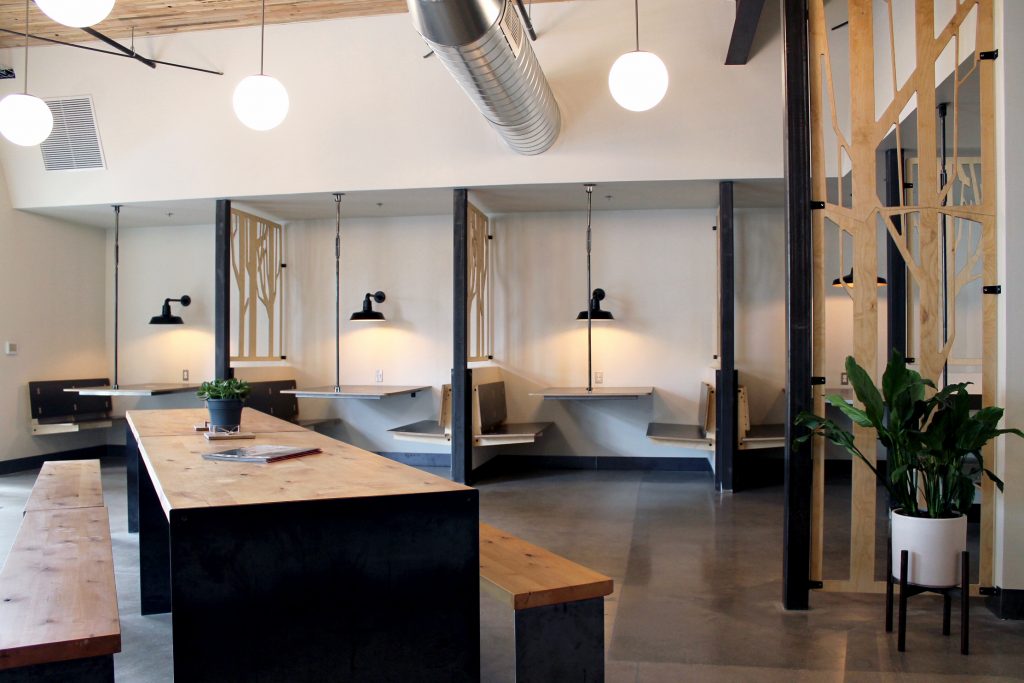 Bend, OR, September 4, 2019 — Today, a new coworking community in the northwest part of Bend opens its doors to businesses and individuals that share a passion for the outdoors. Embark, envisioned by Bend-based Ruffwear, was created to expand Ruffwear's workspace while also building a community of like-minded collaborators. Ruffwear is a founding member of Embark.
Will Blount, Ruffwear's President describes Embark this way, "We consider Embark to be an incubator space targeted towards those who share our values around the outdoors. Two decades ago, Ruffwear was an entrepreneurial start-up built on a culture of innovation. Embark is a chance to expose Ruffwear pack members to new ideas, bring overhead down for small businesses and freelancers, share what we've learned with up-and-coming companies, cultivate creativity and build a community."
The Embark space is a result of a major remodel project started in late 2017 on Ruffwear's headquarters. The company outgrew its warehouse and needed more space in the building for a growing team, and the Embark concept was born. The reimagined office environment includes the new coworking facility that supports dedicated offices, desks, and conference rooms for community members. Twenty-five percent of the space in the building is community space where members can interact.
Original art from local artists, natural materials, such as wood floors on the second level, and glass walls throughout the space create an inviting environment to work in.
"We hope the interactions in the space – the organic sharing of experiences and collision of ideas that proximity fosters – will benefit both Ruffwear and others," says Will Blount, "We want this to be a community, not just office space."
About Embark: Located in northwest Bend, Embark is conveniently located near the edge of the Deschutes National Forest giving community members quick access to trails and outdoor adventure. Anyone interested in learning more about Embark is encouraged to visit embarkbend.com/.

Media Contact:
Laura Grayson
laura@embarkbend.com.