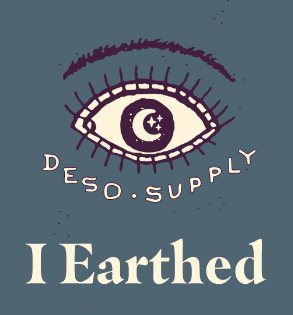 As a society, we cast votes daily. Our time and our dollars speak volumes about what matters to us. At  Deso, the team spends much of our time recreating in nature and our dollars on goods that ethically align with our values. In an effort to build community around Earth (every) Day, we're encouraging people to vote for the planet during the week of 4/22-4/26. Full details here.
Clean up a favorite section of a river, introduce friends to your favorite trail run, pledge to ban single-use plastics, take an hour to learn about the impact our actions have on climate change. Whatever activity it may be, post about it on Instagram or Facebook using #👁earthed.
Those who use the hashtag and show their love for Earth will receive a discount on our USA-made products and our special edition spin on the "I Voted" sticker with their order.
For Reno and Tahoe locals, Deso will host a week of events that emphasize conservation, awareness, and appreciation. All event attendees will receive the #👁earthed sticker.
---

Monday, 4/22 | #👁️earthed Social Launch
Location: Your Instagram account
Time: All week through 4/27
Spread the #👁️earthed love on social. Get outside, host a cleanup, share info on your favorite new podcast, etc. Tag @desosupplyco in a photo on Instagram using the hashtag within the week and receive a special discount on Deso items plus our limited edition sticker.
---
Tuesday, 4/23 | Earth [Every] Day Speaker Series
Location: FiftyFifty Brewing Co.
Time: 6-9 pm
Join us for a night of FiftyFifty beer, amazing speakers, fun brands and community featuring yours truly, Coalition Snow's Jen Gurecki and Sunski's Alicia Levine and Arcade Belts. Speakers start at 7 pm.
Raffles will also be happening! To enter, bring a donation to support the youth at Eddy House. You'll find a list of what they currently need in our Facebook event discussion. If you bring clothing, please make sure it's in good condition for us to donate. Event details here.
---
Wednesday, 4/24 | Wild Lands Speakers Series
Location: Great Basin Brewery (Reno location)
Time: 6-9 pm
Come to the Great Basin Brewery (Reno location) to screen two short films with our team. Films start at 7 pm. We'll be featuring The Last Herd and Horse Rich & Dirt Poor. More details here.
---
Thursday, 4/25 | Hunter Creek Hikeabout
Location: Hunter Creek Trailhead
Time: 4:30 – 8 pm
Hit the trail with locals as we take time to appreciate how epic our wild places are. We'll have Pacific Crest Coffee and Yes Bars at the trailhead, and the fabulous folks from Strange Bikinis hiking with us too! We'll pick up trash along the way. Event details here.
---
Friday, 4/26 | Deso Legacy Trail Clean-up
Location: Truckee River Legacy Trail
Time: 3-6 pm
We'll be cleaning up the Truckee River Legacy Trail alongside Arcade Belts, and are inviting everyone to join in. We love our green spaces, so let's pick up all the trash we can for our community. Meet us at the Glenshire trailhead. The Deso team will provide trash/recycling bags and gloves to get the job done. Bring your #👁️earthed sticker to Alibi Ale Works in downtown Truckee afterward for $1 of a pint! More details here.
About Deso: Inspired by the Sierra Nevada and made in small batches in the USA, Deso was founded in 2016 and is the art form of getting lost. That art form translated into a project that ripened in Desolation Wilderness – a shamanic trip through the vast nothingness shared with a crew of DIY-minded wild spirits digging into anything that isn't standard. Deso combines the frustrations of a whole generation that demands authenticity. The brand finds resolve in a cool cocktail of design, nature, and travel, resulting in designs that provide function-driven daily wearability. #wayoutthere