Bollé launched its augmented reality (AI) filter that allows customers to see out of Bollé's Phantom lens, found in its Nevada goggle, and see what they look like wearing Bollé helmets and goggles without physically touching the products.
For retailers, the technology increases sales opportunities with less chance of returns, for consumers, it offers a confident shopping experience.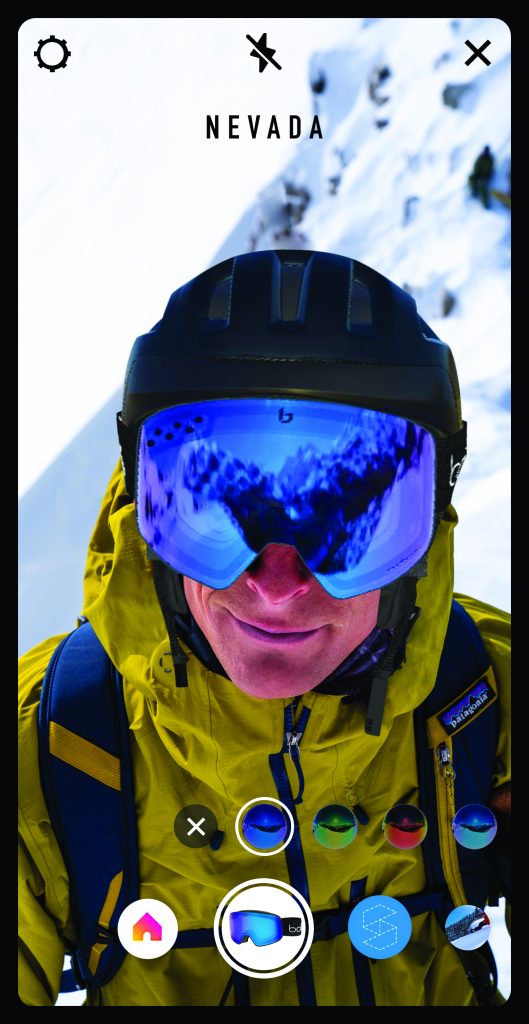 "For this winter version of our Phantom augmented reality experience, we have gone further in the realistic feel of the filter and in our communication," said Louis Cisti, VP of Marketing, Bollé. "Bollé has one of the strongest winter sports athlete teams in the world. This experience pairs the greatest champions with the best photochromic lens technology on the market. It is a strong statement. Our products are worn by the best, and with the filter, anybody can see as a champion," he added.
Partnering with QReal and M7 Innovations, Bollé's AR experience is a first for the helmet and goggle brand. Within Instagram, the demonstration invites users to 'try-on' and 'try-out' Bollé's Phantom technical lense with its RYFT helmet, new for the 2020/21 season. The customer experience also goes beyond Instagram with interactive 3D models on its website that offers informational bullet points that can be moused over. These points are also found on the back of the 3D models when spun around for an interactive online experience.
"One of the key pillars of Bollé Brands' strategy is its "Customer First program," to provide the best solutions to our retailers," said Michael Sakellaris, VP Sales, Bollé Brands. "We believe that experience is worth a thousand words especially when talking about technology. The Phantom AR experience we launched this past summer was a massive success not just because of the innovation it delivered but also because it was a timely response to address the sanitary constraints faced by shops during COVID. With this Winter version of the AR, we extend this support to our winter products retailers and provide them with a full package — a concrete tool to boost sales and consumer interaction supported by communication plans and merchandising tools," he continued.
After seeing the helmet and goggle on their head, users can flip their camera from selfie-view to front-facing and Phantom lenses are superimposed on their actual view. Users then introduce goggle effects — like high contrast, anti-fog and photochromic — into their surroundings to see Phantom lenses in action. Once users select a lens that suits their style and needs, they can search for a participating dealer and purchase directly from that retailer.
The program roll-out is being supported with a digital ad campaign and promoted by its top winter athletes, Alexis Pinturault, French World Cup alpine ski racer and Olympic medalist with 27 World Cup victories and U.S. Ski Team member and two-time gold medalist David Wise.
"Augmented reality had a breakout moment this year as innovative brands continue to find fun, new ways to stay connected to consumers while they're home shopping on their phone or computer and scrolling through social media," said Matt Maher, Founder of M7 Innovations. "AR provides an incredibly rich and realistic experience and is what made Bollé's last AR 'try-out' campaign so successful — people spent around 14 seconds not only to see how the glasses looked on but also how the lens technology worked. That's some powerful marketing and an engaging, rewarding customer experience as we head into the holiday shopping season."
Photo courtesy Bollé