Archer Components introduces a Sprint Battery upgrade for its D1x Trail that "increases shift speed by up to 50 percent, matching the speed of the SRAM AXS electronic groupset," said Archer.
In redeveloping the power supply for the D1x Trail, the company shrank the size of the shifter batteries to fit an extra cell in the circuit, for more power for quicker shifting.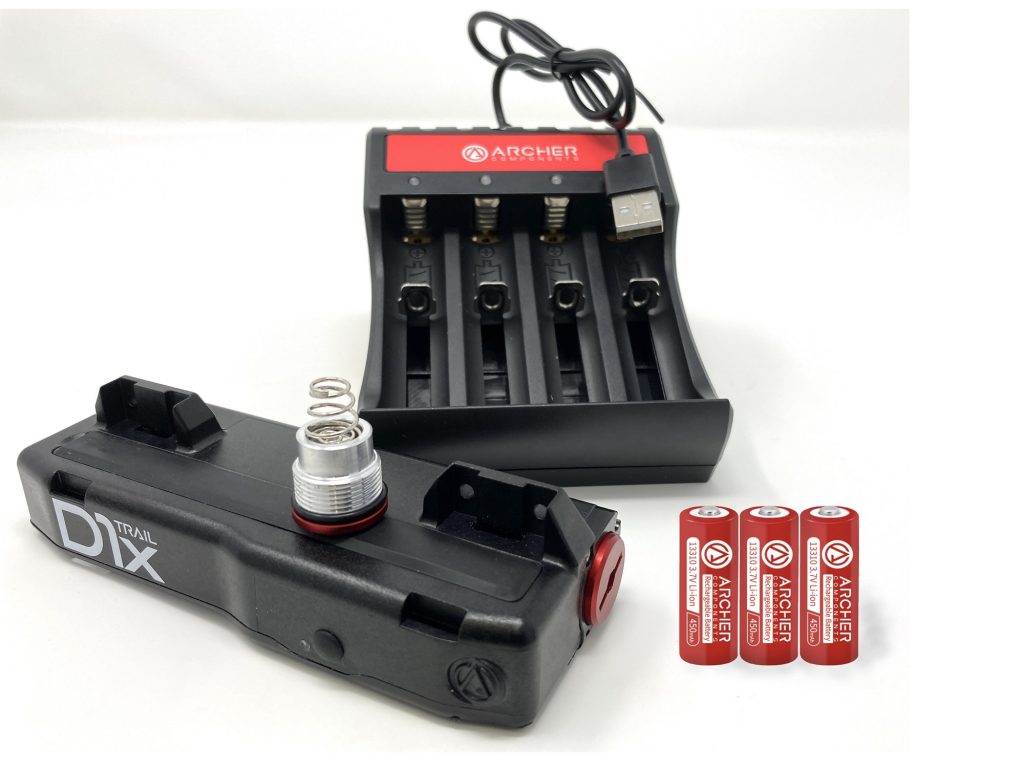 Having originally designed the system with the intent of operating at higher voltages for e-bikes, Archer increased the system voltage via a 3-cell setup from 7.4v (standard 2-battery system) to 11.1v for "up to 50 percent faster shifting."
Existing D1x Trail shifter users can order the Sprint Battery upgrade kit, which includes three batteries, a longer red anodized battery door, and a 4-position charger; however, its standard 2-cell battery system will continue to work as a smooth-shifting performance option.
In addition to its faster e-shifting, Archer's technology also enables the user to tune individual shift points of a rear derailleur. This feature means that even with a bent hanger or wonky cassette they could have smooth shifting across a cassette. Plus, it allows derailleurs to work through an entire range rather than be confined to preset parameters of the shifters. Therefore, the D1x Trail can work with any derailleur and any size cassette, regardless of brand or model from two to 20 speeds. It can also be mixed and matched with brands.
The Sprint Battery power supply gives riders approximately 20 hours of ride time per charge (or ~10,000 shifts, whichever comes first). Battery level can be checked trailside on the shifter or using the Archer app.
"We are always looking for ways to upgrade the D1x, and we knew the ability to increase speed would be a relatively easy upgrade," said Archer founder Devin Carlson. "Electronic shifting has always come at a high price before this, and we wanted to make an upgrade for existing customers affordable and offer the two versions the standard and fast system. We've seen great success with our D1x, and we're confident the new Sprint Batteries will be equally well received."
The Archer Sprint Battery upgrade kit includes a Lithium-ion Rechargeable 3.7v Sprint Battery pack, an updated battery door and a four-position USB charger. The Sprint batteries will also be available as a backup set of cells without the battery door and charger.
Archer Components will showcase its full product range at the Sea Otter Classic, Booth #R6. For more product information, go here.

Photo courtesy Archer Components