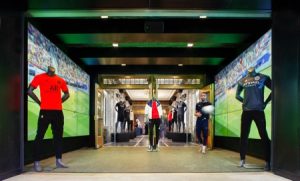 Pelé Soccer announced the opening of its flagship location in Times Square on November 4, 2019, where fans and players can "shop the beautiful game" in New York City. More than just a store, Pelé Soccer Times Square is a destination retail experience that puts Pelé's legacy and love for the game front and center.
Not just the player of the century, but arguably the G.O.A.T., Pelé played for the New York Cosmos from 1975 to 1977, and in those two years did more to raise the profile of soccer in the United States than any other player in history. The opening of his eponymous flagship store marks Pelé's return to the Big Apple, the city he once called home.
"I am thrilled that Pelé Soccer has come to New York City, a place where soccer fans from all walks of life can come together to share their love for the game," said soccer legend Pelé. "New York was once my home, and I still think of those memories fondly. I cannot tell you how much it means to me to have a place in the Big Apple once again."
The experiential store features a stadium-inspired design concept. Upon entering the front doors, visitors will walk through a tunnel-like hallway lined with memorabilia, leading to a main floor that resembles a soccer field. There they will find a curated assortment of official fan gear from more than 100 teams around the world, as well as a high-end footwear section including exclusive Nike, Adidas and Puma cleats.
The raised pitch is surrounded by stadium-style floodlights and interactive stations, including a customization zone for personalized jerseys and cleats; a selfie station situated in front of a commemorative mural by artist Dave Merrell, which pays homage to Pelé's career with the New York Cosmos; and a screening area with bleachers and a large format, 13'x24' LED screen where visitors can watch matches while they shop.
Pelé Soccer will bring international soccer culture to life in New York City through a series of events including viewing parties, player appearances and exclusive product launches, beginning later this year.
Pelé Soccer Times Square is located at 1560 Broadway and is open seven days a week, from 10 a.m.-11 p.m. Soccer fans can also "shop the beautiful game" online at pelesoccer.com.
Pelé Soccer opened its first location in Disney Springs (Orlando, FL) in 2017, and has since expanded to a second location in Miami Beach (July 2019), followed by the opening of its flagship location in New York City (October 2019). The Pelé Soccer brand also has plans to expand to Los Angeles, Las Vegas, Chicago, London, Paris, Dubai, Shanghai, Tokyo, and more.