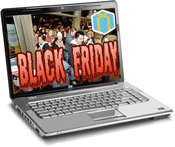 With early results in from retailers and analysts across the market it looks like the 2011 holiday shopping season got off to a fast and early start. Enticed by deep door-buster discounts, shoppers hit the stores in greater numbers earlier than ever this year, as more stores opened doors at midnight on Black Friday. But perhaps the bigger story for the weekend, and one that will be watched closely this week, is the impact that the shift in Internet shopping will have this year.
Historically, the first Monday after Thanksgiving is known as "Cyber Monday," the day when consumers head back to work and utilize their employers' broadband Internet speeds to shop online for deeply discounted products. Given the realities of much wider access to broadband and fast wireless speeds — not to mention retailers' realization that they don't have to wait until Monday to attract this cyber shopper — it's no surprise that the digital world collided with the brick & mortar world on Friday as e-commerce growth far outpaced a very solid performance reported by traditional stores.
The National Retail Federation estimated that consumers spent an average of $398.62 on Black Friday weekend, up 9.1 percent from last year. The survey of 3,826 consumers conducted for NRF indicated that consumers made 37.8 percent of their weekend purchases online. The NRF survey found 28.7 million people shopped online and at stores on Thanksgiving Day – up from 22.2 million last year.
ShopperTrak, which uses equipment installed in stores to measure traffic, forecast that retail sales rose 6.6 percent from a year ago, compared to the anemic 0.3 percent gain seen for the 2010.
Web market-research firm comScore Inc. reported that online spending on Black Friday increased 26 percent from last year. Thanksgiving Day, traditionally a lighter day for online holiday spending, posted a strong 18 percent increase to $479 million. IBM's Coremetrics unit reported a 24 percent jump in online sales based on real-time sales data it tracks from more than 500 U.S. retailers.
comScore reported U.S. retail e-commerce spending for the first 25 days of the November – December 2011 holiday season increased 15 percent to $12.7 billion.
"It appears the lines are blurring between the traditional Black Friday shopping experience and the more recent trend in online shopping on Cyber Monday," suggested James Hartford, chief market analyst at The SportsOneSource Group, which published this newsletter. "The lines have come down between traditional brick & mortar retailers and the pure-play Internet players as more retailers have made the investment – and commitment – to their online businesses. Why wait until Monday when you can bump your numbers on Thanksgiving Day? The online business may be every retailer's equalizer this year"
ChannelAdvisor, which works with retailers to sell across a variety of online-commerce sites, reported that its clients saw sales from Amazon's third-party marketplace rise 50 percent on Black Friday compared with a year earlier.
Department stores saw the biggest jump in online traffic, according to the Coremetrics data, as the segment's online sales jumped 59 percent versus last year.
The NRF report indicated that consumers also got more of a head start on shopping this year, continuing the momentum from 2010. NRF said 24.4 percent of Black Friday shoppers were at the stores by midnight on Black Friday, either waiting for stores to open or visiting retailers who opened on Thanksgiving evening. By comparison, the number of people who were at the stores at midnight was 9.5 percent in 2010 and 3.3 percent in 2009.
"More consumers than ever turned out for retailers' Black Friday promotions, a promising sign for the economic recovery," said NRF President and CEO Matthew Shay. "After an historic holiday weekend, retailers know the holiday season is far from over and will continue to look for ways to excite holiday shoppers and build on the momentum we've seen thus far."
Data also showed that consumers were using mobile devices such as tablet computers and smartphones to make purchases this year. NRF asked how shoppers would use their smartphones and tablets over the weekend as well. More than one-quarter (25.7 percent) of Americans with tablet devices said they did or will purchase items with their devices, and 37.4 percent will or have researched products and compared prices with their tablets. Overall, more than half (57.1 percent) said they have or will use their tablet devices to shop for gifts this weekend.
Coremetrics reported that orders placed from mobile devices accounted for 9.8 percent of online sales, up from 3.2 percent in 2010. EBay reported shoppers purchased 2.5 times as many items using its mobile app, eBay Mobile.
The trends to online purchasing, earlier shopping times and the increased use of mobile devices all bode well for retailers' results this holiday season, but it will be interesting to see how the momentum holds for the entire season. In the end, NRF is only forecasting a 2.8 percent increase in holiday sales this year. After today, retailers are going to have to be far more tactical to get consumers' interest and energy as they settle in to wait for even bigger and deeper deals going into the Christmas weekend.
The timing of Christmas Eve on a Saturday this year should even more excitement in the race for the finish line.