SGB spoke with Corinne Prevot, who founded her headwear and accessories company as a high school student, about her history, her brand philosophy and "firing up the publicity machine" with a newly formed White Cloud Communication partnership.
Writer: Carly Terwilliger
Vermont-based Skida is the brainchild of Corinne Prevot, who started the brand in 2008 as a high school Nordic Ski Racer at Burke Mountain Academy.
Since then, Prevot has established her company as a provider of ski-inspired headwear and accessories, some of which – the Vermont Collection — are fully produced by local seamstresses. And Skida's Cashmere Collection is sourced by ethical, small-scale factories in Nepal with which Prevot has established personal relationships to ensure fair trade and support of local craftsmen.
SGB: What inspired you to found Skida when you were in high school?
CP: I had just started Nordic skiing at Burke Mountain Academy and was uninspired by the options in headwear. I had trouble finding a hat that was colorful, fitting, moisture-wicking, breathable, yet warm. It was during a rainy winter break that I picked out some colorful four-way stretch poly-lycra fabric and stitched a few hats for me and my teammates. We wore them to a Nordic race in Maine that next week and a few girls from a southern Vermont team asked if I could make a few for them. "Sure!" I said, and I brought more to the next race. Someone suggested that I make up a name for the hats. "Skida" is the Swedish word for ski and I thought it had a nice ring to it. So, we had some labels made and I continued to bring hats to ski races to keep up with the demand. Skida snowballed from there.
SGB: What about your brand would you consider uniquely "Vermont?" 
CP: Our products are made in Vermont's northeast kingdom, inevitably tying Vermont to the brand. Perhaps more influential in the growth of our brand is the amount of support from Vermont consumers.  The fact that Skida has been supported and shared by Vermonters from the beginning further strengthens the brand and makes it uniquely "Vermont."
SGB: Take us through the design and production process. What makes Skida headwear and accessories stand out from a manufacturing point of view?
CP: The making of a Skida product is a thoughtfully evolved process.  In the early days, our fabric came from a craft store in small-town Vermont and was cut and sewn at our kitchen table. Today, nine years later, our fabric designs are carefully selected from illustrators in Vermont and all over, printed in California, cut in New Hampshire, and sewn in Vermont.
Our Vermont Collection products are cut from rectangular pieces of fabric, which maximizes our fabric use and eliminates waste. This is one of many thoughtful ways that we manufacture our product.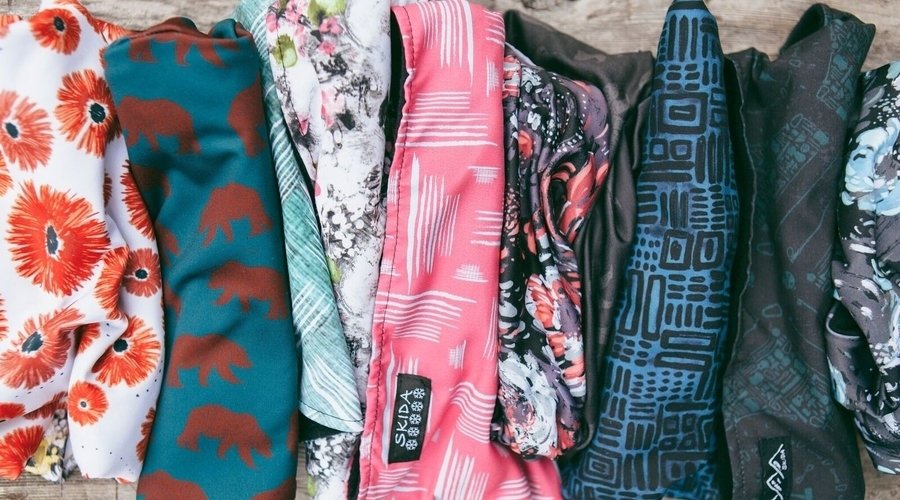 SGB: You've participated in a few collaborations, with Fast & Female, Friends of Liz, etc. How do you choose the organizations?
CP: While we partner with countless events and organizations via custom projects, we choose to collaborate with a handful of organizations based on shared values, longtime connections and good causes. Friends of Liz is in its sixth year and supports longtime friend and Burke Mountain Academy teammate Liz Stephen as she pursues Nordic ski racing at the world level. There is limited support for national-level nordic ski racers and we're excited to be able to provide support to Liz based on the sales of her annual exclusive print.
Fast and Female is another Nordic skiing-based organization that helps get girls enthusiastic about Nordic skiing. This hits home for me, as Nordic skiing opened a lot of doors for me as an athlete and even as a creative. It's great to know that we are helping to share the sport with other young girls. Most recently, we partnered with the High Fives Foundation to produce an exclusive print designed by their own Gina Miele. A portion of the proceeds from the collection will go directly to the organization as quarterly payments.
SGB: How do collaborations help with brand awareness?
CP: Thankfully brand awareness is a byproduct of our collaborations. As the organization markets a product, it also supports and simultaneously promotes their own brand. A win-win for us all.
SGB: Why is now the right time to team up with White Cloud? Are you looking to expand your distribution?
CP: We are excited to fire up the publicity machine with White Cloud Communication. They are tied into the right industries, networks, share the same values, outdoor passions and speak our language. I used to live in Ketchum, ID and have a soft spot for the Sawtooths. White Cloud is well positioned in the western market, a geography that Skida has only scratched the surface of. Plus, who better to share the Skida love than another woman-run outdoor-loving company.
Photos courtesy Skida