The Colorado-based startup put a new twist on camping illumination – and its philanthropic mission donates solar-powered lights to sub-Saharan Africa.
Writer: Carly Terwilliger
Camping season is officially upon us, and Boulder, CO-based Revel Gear wants to make this year's sites glow with its solar-powered LED "mood lighting" designed especially for the campground.
The Revel Light, when paired with the company's Day Tripper Solar Pack, provides 30 feet of ambient mood lighting in the great outdoors. Revel's motto is "Get Out For Good," and its built-in giving-back mission involves the donation of a set of solar-powered lights to someone in a developing country for every Revel-related photo posted to social media using #REVELGEAR.
"Every time we went camping, we would bring a huge generator and a ton of Christmas lights," Co-Founder Kody Plavnicky told us. The Christmas lights were a passion of Plavnicky's husband and Revel Co-Founder Brian. Together, they began wondering about the possibility of developing a more practical portable lighting solution. "Of course, there's lanterns and headlamps," said Plavnicky, "but they're super-bright. So we thought, why not come up with mood lighting that's made for camping?"
So the husband-and-wife team got going on their innovative take on the solar-powered camping light. Soon after registering the business, Brian found himself pitching to the Boulder Chamber of Commerce at the 2015 Esprit Venture Challenge, which showcases the next generation of risk-taking "Boulderpreneurs." Over the next couple of months, said Plavnicky, "we worked on developing the product and decided to launch on Kickstarter. "
After the successful Kickstarter campaign, the startup continued to gain momentum. "We have a ton of supporters in the overlanding community," said Plavnicky. Overlanding refers to self-reliant adventure travel to remote destinations where the principal form of lodging is camping. "We understand there are multiple types of camping, and it's interesting to hear feedback from everyone," she continued. "Our product has been designed to be lightweight, but of course backpackers who are cutting their toothbrushes in half to save ounces aren't necessarily who we're aiming at. For overland camping with cars, it's perfect."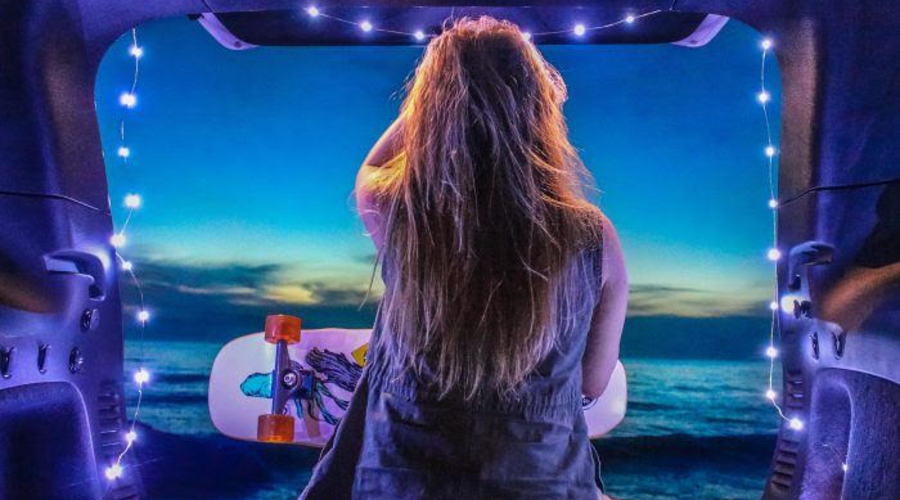 The lights look cool and even come with a spool and hand crank for easy storage, but perhaps even more intriguing is the Night Own Solar pack, a rugged and ultra-portable 10,000mAh solar power bank that folds flat to about the size of a smartphone. Thanks to a carabiner and paracord attachment points, the pack can clip, mount or hang on a variety of stuff, and can handle two phone charges when it's at full capacity. Revel also makes a smaller version that features a built-in 1,000 lumen light.
Along with illuminating campsites, Revel Gear has partnered with the Colorado Coalition for African Empowerment, which has the capability to reach more than 60,000 students in need of light. The company's immediate goal is to light one million-plus lives in sub-Saharan Africa through its "You share, we share" business model. Looking ahead, "Our long-term goal is to travel out there in 2018, and hopefully document it for a film," according to Plavnicky.
For now, Plavnicky said, "We're pedal to the metal here getting ready for our Outdoor Retailer debut," where Revel will take part in Venture Out, what the industry trade show describes as a curated selection of brands at the forefront of the modern outdoor experience. Elaborating on who they'll be targeting at the show, "Our core customers are bringing tech out into the wild," she explained. "They're campers who bring, for example, portable Bluetooth speakers with them so they can enjoy their music."
Finally, we asked where the startup's dynamic duo most enjoys using their products. "For me, I love the White River National Forest near Vail," said Plavnicky. "If you asked Brian, he'd probably say anywhere near Moab or Canyonlands."
Photos and video courtesy Revel Gear