Like the hundreds of young women 1,000 Dreams Fund has supported with micro-grants, Ringquist knows what it means to have big dreams but little funding to obtain them.
World Cup Ski Jumper and USA Nordic member Abby Ringquist teamed up with non-profit 1,000 Dreams Fund ("1DF") to become the face of its new national fundraising campaign, #FundGirlsOntheRise.
Ringquist was selected as spokeswoman for the campaign because, in addition to being the ultimate "Girl On the Rise," she also understands the hardships young women face today in striving for their dreams. Despite being an elite athlete, until recently the skiers and her teammates were self-funding their travel and expenses to compete on the World Cup and Olympic level.
This fall, USA Nordic took over operations of the women's Ski Jumping Team and committed to funding athletes, allowing them to focus on being their best. USA Nordic Executive Director Billy Demong stated, "While ecstatic to be funding all of our hopefuls this year at the World Cup we took on a lot of financial risk. It's critical to our mission to support our athletes but we are now focused on ensuring that we can afford to equally and fully fund all of our women and men. That's why I am so excited to be working with Christie Garton and the 1,000 Dreams Fund, to ensure that Abby, and the future flying girls that she inspires, can afford to pursue their dreams in ski jumping."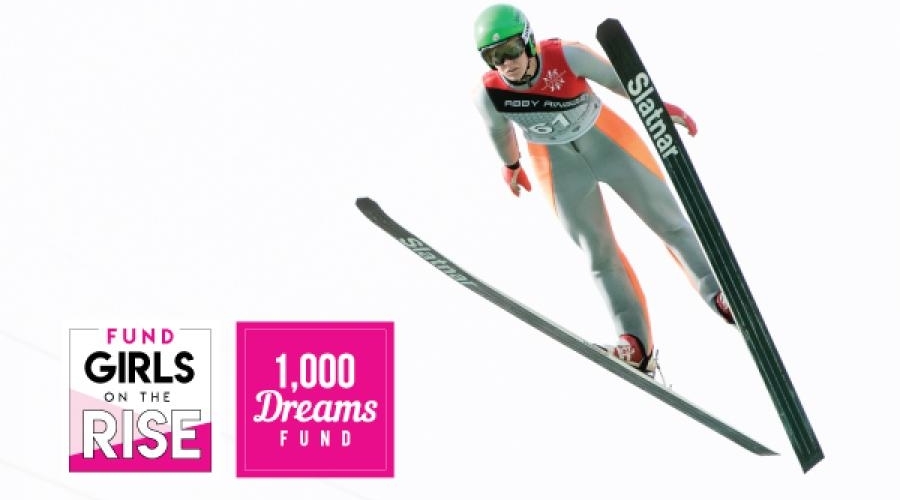 Like the hundreds of young women 1,000 Dreams Fund has supported with micro-grants, Ringquist knows what it means to have big dreams but little funding to obtain them. Ringquist, now 28, has competed at the World Cup level since the 2011 season, and missed competing in the last Winter Olympics in Sochi by just one spot – she came in fourth.
Despite this setback, she got focused and is stronger than ever, training around the clock and working to help supplement the funding from USA Nordic to pursue her sports dream while attending college. With a medal now in sight, Ringquist is currently competing to qualify for Team USA in the 2018 Winter Olympics.
"Abby's experience really speaks to the hurdles so many young women face in funding their dreams. Her story and struggle embodies what many hard-working but disadvantaged young women grapple with," said Christie Garton, founder and CEO of 1,000 Dream Fund. "Each year, thousands of American girls have big sports dreams, but little funding. 1DF and Abby want to change that. Abby's perseverance and commitment to pursuing her dream at all costs makes her the ideal ambassador and spokesperson for this partnership."
"I've worked my whole life toward my dream of competing in the Olympics as a ski jumper," said Ringquist. "It has been a real struggle, physically, mentally and financially and I am so excited about the support that 1,000 Dreams and USA Nordic are providing so that I can focus on my preparation for PyeongChang and supporting my teammates for an amazing season."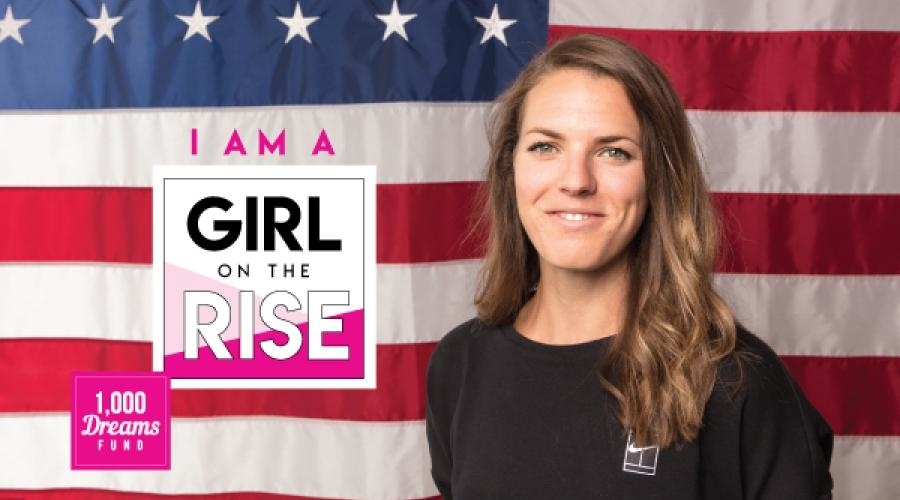 The 1,000 Dreams Fund has launched the #FundGirlsOntheRise fundraiser, which offers as a prize two VIP passes and an all-expense paid trip to the Olympic Team Trials in Park City, UT where winners will meet Ringquist and her fellow world class female ski jumpers. Entries cost $1, and
This once-in-a-lifetime experience, provided by USA Nordic, comes at the low cost of just $1, and the 1,000 Dreams Fund will also donate 15 percent of the total amount raised to USA Nordic.
The VIP passes to the Olympic Trials will be drawn randomly and announced on December 24, 2017. Additional prizes will be announced over the course of the fundraiser.
Photos and video courtesy 1,000 Dreams Fund